Typhoon Haiyan: UK sending six aid planes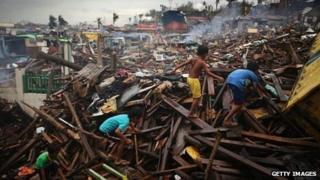 More than 1,400 tents and other supplies are to be flown to the Philippines on six UK aid flights this week to help victims of Typhoon Haiyan.
Four cities will also be given a total of £5m, taking the total amount of UK government aid to £55m.
International Development Secretary Justine Greening said humanitarian efforts would not "stop here".
The number killed in the disaster has risen to more than 5,000 and with many still missing, say officials.
'Better future'
Ms Greening is currently touring the areas devastated by the typhoon.
She said the humanitarian efforts of the UK's armed forces and the Department for International Development (DfID) were already making a difference.
Speaking to the BBC in Manila, she said the devastation was "shocking".
"There is the beginning of people clearing debris and the roads are now clear. But there's a huge amount left to do," she said.
The six new aid flights arriving over the next six days will carry supplies including 22,000 plastic sheets, 23,000 tarpaulins, 3,000 cooking sets and 17,000 blankets.
HMS Illustrious, a helicopter carrier, is due to arrive on Monday delivering 500 tonnes of disaster relief aid to the area.
Ms Greening said: "What you can't see here is the smell. There's a huge amount of dirt around this place that needs to be cleared but gradually we're going to help people get back on their feet."
She said the UK was working to provide food, water purification kits and counselling for those affected.
"What we want to do is work with people so that they can help to support themselves, and in the meantime ensure they've got the water, the food and the shelter and the healthcare they need to get through these initial days," she added.
Typhoon Haiyan, known as Yolanda in the Philippines, is the deadliest natural disaster in the country's history, and was one of the most powerful typhoons ever recorded.
Winds of up to 270km/h hit the central Philippines when it made landfall on 8 November, flattening parts of low-lying islands.
Ms Greening said the UK was working with the Philippines government to replace lost buildings to a standard that would withstand any future storms.
And she said the UK would continue to assist the country when media attention moves on from the disaster.
"We're going to support the Philippines through this crisis and we're going to work with them in the coming years."