Ed Miliband faces Desert Island Discs dilemma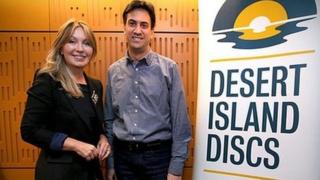 Labour leader Ed Miliband is set to be the latest politician to make his music selections for BBC Radio 4's Desert Island Discs. Many have tried to improve their image with their music choices, but the expert advice is to be genuine.
A chat about life and music with Kirsty Young, and before her Sue Lawley, Michael Parkinson and Roy Plomley, is something of a badge of honour; a status symbol of having in some way made it.
Deputy Prime Minister Nick Clegg was on in 2010, David Cameron in 2006.
But what should motivate those who are asked to pick their favourite songs?
More than 70 years of castaways means those on the desert island might now be grumbling about overcrowding; its record player requiring a new needle.
Almost 3,000 people have appeared since the show's debut in 1942, more than 100 of them politicians.
"I think it would be a foolish person who went on to Desert Island Discs thinking they could 'use it with a capital U'."
That's the view of Sue Lawley, who appeared as a guest in 1987, and chose - as her luxury item - an ironing board.
She went on to present the programme for 18 years.
"My advice to anybody going on it is 'be honest', don't take advice from other people, particularly spin doctors, about what to do and say."
David Mellor, a devotee of classical music, appeared in 1992, while national heritage secretary.
"I was enormously proud, enormously proud. I thought 'little me', seriously because I think it's a fascinating programme which has stood the test of time," Mr Mellor told us.
"I won't say I wanted to show off a bit, because that's not what it's about, but I did want to show people - and this is where I have problems with what some people choose these days - I did want to show that I was culture minister and I was a bit cultured, you know?
"I mean, genuinely so, if that doesn't sound a horribly pompous thing to say."
Bach, Beethoven and Tchaikovsky were among his tracks.
So what pressure does a politician flicking through his or her record collection face, so conscious this is a platform for projecting an appealing, perhaps broad-based, rounded image to the country?
Enoch Powell visited the mythical desert island in 1989, after standing down as an MP.
"Well it's bound to be Wagner," he told the programme.
"As far back as I can remember I've been under the influence of Wagner and I wrote poetry under the influence of Wagner.
"I would like to hear the Entry of the Gods Into Valhalla, the moment at which the hollowness of the achievement of the gods is exposed."
Sue Lawley, who interviewed him, said his choices were authentic.
"He chose, I think, six pieces of Wagner, so he was being true to himself, but he said afterwards that his wife Pamela had said to him if he was going to go on this programme he ought to lighten up a bit, but in the end he, probably wisely, chose not to do that, because his public persona was this serious person who liked Wagner."
The tussle guests face over their choice of music has even made it to the stage.
"One of the great signal badges of honour for Desert Island Discs was that it appeared in a Tom Stoppard play called The Real Thing," said Sean Magee, the author of the book Desert Island Discs, 70 Years of Castaways.
"It's a play about a playwright, a very intellectual playwright, who's choosing his songs.
"He wants to put on The Crystals' Da Doo Ron Ron. He's very anxious that if people think that if he likes to write about Proust and likes that song it would give the wrong impression."
But sometimes coming across as warmer and softer than your existing public image can be useful, providing again it is authentic.
"I remember Michael Howard, for example, who carried around with him the Ann Widdecombe slur that there was something of the night about him and he came on Desert Island Discs and chose Long Tall Sally and he also talked about how much he loved his wife," Sue Lawley remembered.
Amongst the former Conservative leader's choices, in 2004, was Bryan Adams' (Everything I Do) I Do It For You.
"He was warm, most affectionate," Sue Lawley said.
"I liked to think, actually, it did something for his image. I don't think he set out to do that, he came along as himself and contradicted the public image."
It was the turn two years later of Lord Howard's successor as Tory leader, David Cameron.
And one choice of his stood out: Benny Hill's Ernie, the Fastest Milkman in the West.
Desert Island Discs historian Sean Magee is suspicious.
"I'm sure if you were to say to him, David Cameron, come off it, we know you've just put that in to show your jollier side, I'm sure he'd deny it. But most of the senior politicians have at least one which you think, 'I can't imagine them really listening to that'."
But Sue Lawley, who interviewed the then leader of the opposition, disagreed.
"I think he was being very genuine. It was a party piece. He loved it and it made him laugh.
"What he wisely did was refuse pressure from me to sing it!" she added, laughing.
Listen to Desert Island Discs on BBC Radio 4 at 11:15 GMT on Sunday 24 November and 09:00 GMT on Friday 29 November, or afterwards on the BBC iPlayer.