Operation Elveden: Journalists deny corrupt payments charges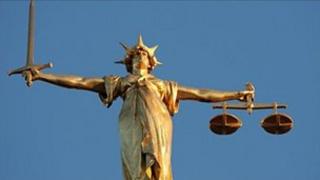 Seven journalists are among 20 defendants who have denied allegations concerning corrupt payments made to public officials by newspapers.
Others who denied the charges at the Old Bailey included three prison officers and a police officer.
Two public officials, who cannot be named for legal reasons, pleaded guilty.
The charges were brought under the Metropolitan Police's investigation Operation Elveden.
Sun journalists appear
Operation Elveden is looking into corrupt payments to police and public officials and is being run alongside two other investigations - Operation Weeting, which is looking at alleged phone hacking, and Operation Tuleta, which focuses on computer hacking and other alleged privacy breaches.
Former managing editor of the Sun Graham Dudman, ex-Sun journalist John Troup and current reporters Nick Parker and Vince Soodin denied conspiracy to commit misconduct in a public office.
So did former Daily Mirror journalist Greig Box Turnbull, ex-News of the World crime editor Lucy Panton and the Daily Star Sunday's deputy news editor, Tom Savage.
Darren Jennings, an officer with Wiltshire Police, denied misconduct in a public office.
Grant Pizzey, a prison officer at Belmarsh prison, his partner Desra Reilly, prison officer Lee Brockhouse, who was based at Kent's Swaleside prison, and Scott Chapman, a prison officer from Corby in Northamptonshire and his ex-partner Lynn Gaffney denied conspiracy to commit misconduct in a public office,
Four current and former Sun journalists also appeared in court for preliminary hearings. They were former deputy news editor Ben O'Driscoll, picture editor John Edwards and journalists Chris Pharo and Jamie Pyatt.
Alan Ostler, who was formerly an assistant technical instructor at Broadmoor Hospital in Berkshire, and two more defendants who cannot be named, also appeared in court for preliminary hearings.
All of the cases were adjourned.