Lord Judge calls for child witness changes in court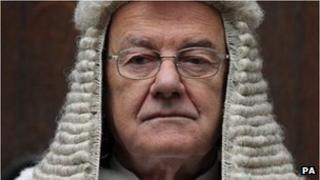 Children should no longer need to be in court in person to give evidence in most cases, the recently retired Lord Chief Justice has told the BBC.
Lord Judge said cross-examination could be done through pre-trial video links or recordings instead of face to face.
He said he was optimistic there would finally be a major change in how young victims and witnesses were treated.
His comments followed criticism of the cross-examination of child victims in a series of high-profile cases.
'Antediluvian hangover'
In an interview with BBC legal affairs correspondent Clive Coleman for Radio 4's World at One, Lord Judge said he believed that requiring children to appear in person was "an antediluvian hangover from laughable far-off days of the quill pen and the ink well".
He said he was confident that even with the child absent from the court building, defendants could still get justice.
Lord Judge said: "We're talking about children. You're taking children to a completely alien environment.
"You're taking them to a vast building, many people about, eventually after a prolonged process to talk or be asked about what they say was an unpleasant experience and in some cases will have been an horrific experience.
"Why take them away from a place where they can give evidence, which can be evaluated perfectly well, by putting them into such a hostile environment from their point of view."
Lord Judge also thought that young complainants in sexual offence cases should only have their credibility attacked once, even if there were multiple defendants.
Aggressive questioning
One recent case where this issue arose involved a victim in a trial of a gang that ran a prostitution ring in Telford.
The girl, who had been sold to men across England since the age of 13, was cross-examined for 12 days by seven different defence barristers.
She was accused of lying, asked if she repented of her sins and was left in tears on the stand.
One of the defence barristers walked out in protest at how aggressive the questioning was.
Some 40,000 children and young adults each year give evidence in criminal cases in England and Wales.
Lord Judge addressed the issue in the annual law reform lecture to the Bar Council on Thursday evening.
The government said it was testing the pre-trial recording of evidence of young and vulnerable witnesses, and was investigating how to reduce the stress caused by cross-examination.