Paul Flowers arrested over drugs allegations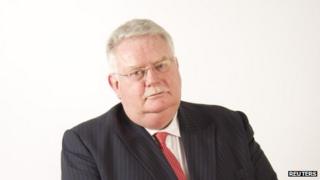 The former chairman of the Co-op Bank has been arrested in Merseyside in connection with a "drugs supply investigation".
Paul Flowers, 63, was filmed allegedly handing over £300 for cocaine and discussing buying other illegal drugs.
Following the revelations he was suspended from both the Methodist Church, where he was a minister in Bradford, and the Labour Party.
The chancellor is expected to confirm an independent inquiry into Mr Flowers.
He left his position as deputy chairman of the Co-op Group in June.
In a statement, West Yorkshire Police said: "Officers have... arrested a 63-year-old man in the Merseyside area in connection with an ongoing drugs supply investigation.
"He has been taken to a police station in West Yorkshire where detectives will continue their enquiries."
Payments stopped
The BBC has learned that Mr Flowers resigned from the Co-op Group amid concerns about his expenses.
Our business editor Robert Peston says he stepped down after being confronted with a dossier of his "lavish claims", compiled by the then chairman Len Wardle.
Separately, he was forced out of the Co-op's banking arm because of doubts about his competence for the job.
The bank is seeking to recover money paid to its former chairman who has been told to hand back £31,000.
"When Paul Flowers relinquished his responsibilities in June, it was agreed, as per his contractual obligations, that his fees for the rest of his period of office would be paid," it said in a statement.
"Following recent revelations, the board stopped all payments with immediate effect and no further payments will be made."
The Co-op is also looking at emails and other evidence as part of an "internal fact-finding review".
'Unjustified smears'
Since the Mail on Sunday published a video of Mr Flowers allegedly paying for and discussing recreational drugs, Labour have sought to distance themselves from the Methodist minister as a political row has developed over how he was allowed to reach a high position in the bank.
Until 2011 he was a Labour councillor in Bradford and subsequently served the party on what it says was an informal advisory group.
John Pennington, an opposition councillor who sat alongside Mr Flowers, described him as "very believable, a very plausible chap".
"We were never informed why he left the council", he told BBC Radio 5 live.
On Thursday, Ed Miliband accused David Cameron of "unjustified smears" over Labour's links with Mr Flowers.
The Labour leader said the prime minister was scoring "cheap political points" and ignoring serious regulatory issues.
The prime minister has suggested the Labour Party knew of concerns about Mr Flowers but did not act on them, but Mr Miliband said he was confident Labour had acted with "complete integrity".
Details are expected in the next few days of an inquiry ordered by Mr Cameron into why Mr Flowers was considered to be a suitable chairman for the Co-op Bank.
Labour has written to the cabinet secretary seeking assurances that the probe does does not become "some sort of Trojan horse for a party political attack".
"It is your responsibility to ensure that any such inquiry must be genuinely independent and robust," shadow cabinet office minister Michael Dugher said in a letter to Jeremy Heywood.
And the government is facing questions from its own side over the bank's abortive attempt in April to buy 631 Lloyds branches - a move which contributed to its near-collapse.
Church questions
Former Conservative leadership contender David Davis told the Financial Times problems should have been spotted earlier by the Treasury and regulators.
"There are really serious questions to answer about what they were all doing," Mr Davis told the FT.
Labour seized on the comments, praising Mr Davis's intervention and adding that the inquiry must "get to the bottom of" what went wrong at the bank on the government's watch.
The prime minister's official spokesman insisted scrutiny would be on why the Co-op got into financial difficulty, "including questions about its leadership".
Meanwhile, the Methodist Church has said it offered "pastoral care" for Mr Flowers, who is indefinitely suspended as a minister.
Assistant general secretary Rev Gareth Powell told the BBC: "Inevitably, it's regrettable when the allegations made against one minister then tarnish the extremely good and honourable work undertaken by all of our ministers."
"Certainly the actions that are now under public scrutiny inevitably raise a question about the role of the church."
It emerged this week that Mr Flowers resigned from running drugs charity Lifeline in 2004 after allegedly lodging false expenses claims.
According to Thursday's Daily Mail, the figure involved was £150,000.
The Charity Commission said it had received a complaint at the time but had no evidence that Mr Flowers "acted in bad faith or fraudulently".