Paul Flowers quit Co-op amid concerns over expenses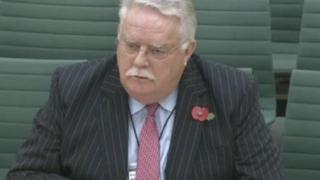 Paul Flowers resigned as deputy chairman of Co-op Group in June because of concerns about his "excessive" use of expenses, the BBC has learned.
He quit when the board lost confidence in him after then-chairman Len Wardle had showed it a dossier of claims.
He was also separately forced out as chairman of Co-op Bank because of doubts over his competency for the job.
Meanwhile, the Methodist Church said allegations surrounding Mr Flowers - a minister - had damaged its reputation.
The Church has suspended Mr Flowers indefinitely from his ministry in Bradford pending an investigation.
Email trawl
The Reverend Gareth Powell, assistant secretary of the Methodist Conference, told BBC News that Mr Flowers - a minister since 1975 - was taking stock of his actions while receiving pastoral care at a friend's house.
BBC business editor Robert Peston said Co-op Group had continued to pay tens of thousands of pounds to Mr Flowers until just this week.
Because of the democratic structure of the Co-op Group, he was still due to be paid £61,000 a year until 2015.
A source told our editor that Co-op Group may now sue Mr Flowers for the repayment of what he has been paid since June.
On the orders of chief executive Euan Sutherland, the Co-op Group has also trawled through Mr Flowers' emails.
It will be handing some of these to the police to help them in their inquiries into Mr Flowers' alleged illegal possession of recreational drugs.
It was because Mr Sutherland had doubts about his competency that Mr Flowers was asked to resign from Co-op Bank in the summer, our editor added.
Mr Flowers apologised last week after a video on the Mail on Sunday website showed him handing over £300 in a car, apparently to buy cocaine.
It has since emerged that:
Mr Flowers resigned as a Labour councillor in Bradford in 2011 after "inappropriate but not illegal adult content" was found on his computer
He resigned from running drugs charity Lifeline in 2004 after allegedly lodging false expenses claims According to Thursday's Daily Mail, the figure involved was £150,000. The Charity Commission said it had received a complaint at the time but had no evidence Mr Flowers "acted in bad faith or fraudulently"
He was convicted of drink-driving in 1990. A Methodist Church disciplinary hearing was held but he was allowed to continue his role in the Church
In 2005, he referred himself to local authority watchdog Standards Board for England for sending a "joke" message to council colleagues that was alleged to have had "sexual connotations", according to the Daily Telegraph
'Inappropriate behaviour'
There have been claims - including from former Methodist ministers - that Mr Flowers had a long history of inappropriate behaviour.
"Inevitably some of the speculation has raised questions, as it does, for the Church about the trustworthiness of ministers," Gareth Powell said.
"It's regrettable when the allegations made against one minister tarnish the good and honourable work done by all our ministers.
"We realise that it's brought into question the appropriateness of some of his activity."
He said members of Mr Flowers' congregation were "bemused... confused... and anxious to know the truth in all of this".
But Mr Powell added: "We have to act justly and my understanding of that is that we act on the basis of factual material.
"I'm in touch with him so that he feels the Church is offering him some support. It's not for us to turn our backs on him. We will work with him to see how that plays out in the coming days. It's a fast-moving situation."
There has been political fall-out over the allegations. On Thursday, Ed Miliband accused David Cameron of "unjustified smears" over Labour's links with Mr Flowers.
The Labour leader said the prime minister was scoring "cheap political points" and ignoring serious regulatory issues.
The prime minster has suggested the Labour Party knew of concerns about Mr Flowers but did not act on them, but Mr Miliband said he was confident Labour had acted with "complete integrity".
Mr Cameron has ordered an inquiry into how Mr Flowers was considered to be a suitable chairman for the Co-op Bank.