Hacking trial: Goodman warned 'We could all end up in jail'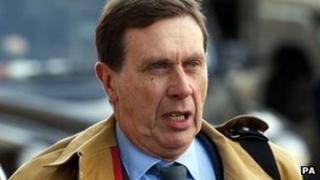 The News of the World's royal editor warned "We could all end up in jail" if payments to police officers were traced, the Old Bailey has heard.
Clive Goodman wrote the warning in an email to the PA of managing editor Stuart Kuttner, the prosecution says.
Two recipients were "in uniform" but Mr Goodman said they were untraceable, the jury heard.
Mr Goodman denies conspiracy to commit misconduct, while Mr Kuttner denies phone hacking charges.
The jury in what is widely known as the phone-hacking trial was also shown emails apparently exchanged between former NoW editor Andy Coulson and news editor Ian Edmondson
They dated from 2006, when the paper was working on a story about a glamour model who alleged her unborn child was the result of an affair with Calum Best, the son of the late George Best.
In the emails as shown to the jury, Mr Coulson and Mr Edmondson seem concerned that the exclusive story might be leaked by Mr Best before they are ready to publish. One apparently shows Mr Coulson giving Mr Edmondson the instruction "Do his phone."
Earlier, the jury was told that in an email exchange with his PA, Beverley Stokes, in July 2005, Mr Goodman was told Mr Kuttner wanted to talk to him about cash payments to a contributor.
In reply, Mr Goodman said he had written to Mr Kuttner saying there were only three sources he paid in cash, and quoted the email he had written to him.
"Two are in uniform and we - them, you, me, the editor would all end up in jail if anyone traced their payments - and they've had Special Branch crawling all over them since we ran a five-paragraph story about an Operation Trident arrest at Clarence House.
"Thanks to the way we pay them, they're untraceable.
"The third is an executive at another newspaper who is also taking on potentially life-altering risks for us and will not accept any other form of payment," he wrote.
'Work his magic'
The jury was also shown evidence that payments made by the now-defunct tabloid to private investigator Glenn Mulcaire were authorised by Mr Kuttner's office.
Mulcaire has already admitted hacking phones.
Mr Goodman referred, in one message of April 2006 to Mrs Stokes, to payments that needed to be made to "Mr Alexander" - a codename for Mulcaire.
He told Mrs Stokes that Mr Alexander was "the most important in terms of the contact" and he was hoping to get a story about Prince Harry from him.
The email read: "I'm relying heavily on him to work his magic over Harry's passing-out party."
When reassured by Mrs Stokes that the payments were going to be made, Goodman told the PA: "Fantastic. I won't be found in the Thames wearing concrete wellies tonight."
On Wednesday, the jury were shown a series of documents relating to former news editor Ian Edmondson, including an email from editor Andy Coulson to all staff announcing Mr Edmondson's appointment.
However, the jury were also shown Mr Edmondson's dismissal letter when he was sacked for gross misconduct in January 2011. It cites the reason for his dismissal as, "complicity in illegal interception of voicemail messages whilst working as Assistant Editor (News) at the News of the World."
Mr Coulson, 45, from Charing in Kent, Mr Kuttner, 73, from Woodford Green, Essex, and Mr Edmondson, 44, from Raynes Park in west London, deny conspiracy to intercept mobile phone messages. Mr Goodman, 56, from Addlestone in Surrey, denies conspiracy to commit misconduct in public office.
The trial continues.