Many smugglers going unpunished in UK, says report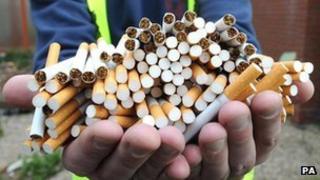 Thousands of smugglers of goods are going unpunished because of a breakdown in communication between Border Force and HMRC officials, a report has found.
Borders and immigration chief inspector John Vine said fines were considered in only one in four UK seizures - 2,971 out of 11,839 - made in 2012/2013.
Dover, Felixstowe and Immingham ports, as well as Heathrow airport, were inspected between last March and July.
The government said all the issues raised were "being actively addressed".
The report found that, while seizures of alcohol and tobacco had risen since 2010, a minority of cases were considered for criminal investigation.
Where commercial quantities of cigarettes and alcohol were discovered, under half were followed up.
In one case cited, nine million cigarettes were found inside a container at Felixstowe, but no action was taken.
'Informal' contact
Mr Vine said financial penalties and prosecutions were "powerful weapons in the war against smugglers".
"However, a breakdown in communication between Border Force and HMRC [HM Revenue and Customs] at an operational level meant Border Force was not referring suitable cases to HMRC for financial penalties to be issued to potential smugglers."
He said contact between the two was "informal, often via a telephone call".
"This meant that not enough was being done to deter those attempting to smuggle goods into the UK."
The inspection found there was no Border Force scanning equipment in place for freight at Heathrow, with staff instead using small X-ray machines owned by companies who managed sheds at the airport.
"Considering that approximately 70% of all UK air freight arrives into Heathrow, we consider this to be a weakness in the protection of the UK border," Mr Vine said.
But the chief inspector said Border Force staff were "committed, knowledgeable and experienced" at countering threats from the import of freight.
'Right changes'
Immigration minister Mark Harper said a decision had been taken to concentrate on investigating the biggest seizures but there would be more referrals for prosecution and financial penalties in the future.
"We're doing some work already with HMRC, Border Force and NCA [National Crime Agency] to make sure we do refer more cases for prosecution and we do follow more of them up," he said.
He added: "It will take time to transform Border Force and fix all the problems we inherited but I am confident that we are making the right changes."
In 2011/2012, 455.2 million cigarettes, 4.2 million litres of alcohol, 2,948kg of cocaine, 17,708kg of herbal cannabis and 15,566kg of cannabis resin were seized in the UK.