G4S boss 'sorry' for tagging overcharging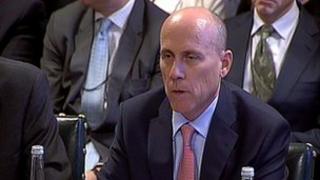 The head of G4S has apologised to a committee of MPs for overcharging on contracts for tagging criminals.
Chief executive Ashley Almanza told MPs the company failed to "tell the difference between right and wrong" when dealing with the contracts.
Serco chairman Alistair Lyons also said it was "ethically wrong" that his company overcharged the government.
It comes after an audit suggested the security firms had charged to tag criminals who were dead or in jail.
On Tuesday, the Ministry of Justice (MoJ) rejected an offer of £24m from G4S to pay back what it owed.
Mr Almanza told MPs on the Public Accounts Committee: "It was a judgment that was flawed. It was just a flawed judgment.
"I don't think we did correctly tell the difference between right and wrong. We got it wrong."
'Ethically wrong'
He added: "I apologise to the secretary of state and I should apologise to this committee and the taxpayer on behalf of our company. We didn't have the systems in place that we needed.
"Too much was left to a small number of individuals and we didn't have appropriate checks and balances in place and that is changing now as we speak."
Mr Lyons said: "Managers within our UK division may have genuinely interpreted the contract that way but that's not the point, as far as we're concerned. It was never right that we should bill where we were not doing work in respect of that billing.
"That was wrong. It was ethically wrong and for us it's one of the signs that say we need to have an attitudinal change within our business."
Committee chairwoman Margaret Hodge said: "If you had never been caught on some of these people who are out of jail, dead or whatever, you would have carried on charging to the year 3000."
Mr Lyons replied: "It was totally wrong. As far as we're concerned, it may have been what a contractual interpretation, what the lawyers might argue, it still wasn't right."
Mr Lyons and Mr Almanza said no evidence of overcharging on other contracts held by Serco and G4S had been found.
But leader of the union Unison, Dave Prentis, said: "Saying sorry hardly compensates for a catalogue of catastrophes and for wasting millions of pounds of taxpayers' money.
"How many more millions will be wasted by failing contractors before the government starts hearing the alarm bells and calls for a wider review of the use of outsourcing in public services?"
In July, the MoJ revealed that G4S and Serco had overcharged the government by "tens of millions of pounds" following an audit by accountancy firm PricewaterhouseCoopers.
The Serious Fraud Office has launched an investigation and both firms have said they are "co-operating fully".