Co-op probe after drug allegations against ex-boss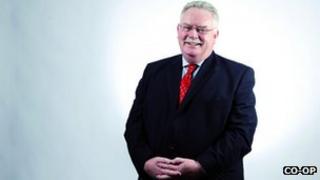 An investigation has been launched at the Co-op Bank after its ex-chairman was filmed allegedly buying drugs.
Paul Flowers apologised at the weekend after the Mail on Sunday published video footage apparently of the deal.
He has been suspended from both the Labour Party and the Methodist Church where he is a minister.
The Co-op Group said it was launching a "fact-finding process to look into any inappropriate behaviour" and a review of its "democratic structure".
It said in a statement: "Given the serious and wide-ranging nature of recent allegations, the new executive management team has started a fact-finding process to look into any inappropriate behaviour at the Co-operative Group or the Co-operative Bank and to take action as necessary."
West Yorkshire Police said it was making enquiries after Mr Flowers, 63, was reportedly filmed by an acquaintance he met online buying £300 worth of illegal drugs including cocaine.
'Not influential'
Mr Flowers, who served as a Labour member of Bradford Council for a decade, has been suspended from Labour for "bringing the party into disrepute".
He is also a former member of an industry and finance board for Labour, but party leader Ed Miliband said the board "no longer exists".
"As I understand it the police are looking into this matter and I'm not going to comment on an ongoing investigation they have," Mr Miliband said.
A party spokesman said the board Mr Flowers belonged to was a "relatively informal" one and he was "in no way influential".
But Labour also said Mr Flowers had a meeting with Mr Miliband on 6 March this year - a meeting described as one resulting from the debate over banking reform.
BBC business editor Robert Peston said Mr Flowers rose through the ranks of the Co-operative Group's political wing over a period of years.
He said Mr Flowers had never worked in the banking sector in "any senior capacity", but was appointed chairman of the Co-op Bank as a result of a "power struggle within the co-operative movement".
He said Mr Flowers' rivals in the movement were "surprised and disappointed" when the now-defunct Financial Services Authority (FSA) approved his appointment.
Appearing before a committee of MPs earlier this month, Mr Flowers appeared to have "no grasp" of "basic" facts about the bank, our correspondent added.
The Financial Conduct Authority, which has taken on some of the FSA's former responsibilities, said Mr Flowers "underwent the appropriate interview process when originally coming on to the Co-op board [in 2009]".
The BBC understands he faced a less rigorous interview when he became chairman, because at the time regulators did not see the posts of non-executive director and chairman as significantly different - though that has since changed.
David Jackman, head of ethics at the FSA until 2003, told BBC Radio 4's the World at One it was "very disturbing" that Mr Flowers had made it through the vetting procedure.
"I think it is too easy for people to become directors of banks", he said.
"But there is a limit to what regulators can do and we really need to look to banks to police who they recruit."
'Bad lending'
A senior MP who led an inquiry into banking standards said it had been clear Mr Flowers was not up to the job even before the newspaper revelations.
Andrew Tyrie, who chairs the influential Treasury Select Committee and headed up the recent banking standards commission, said MPs could see Mr Flowers was "manifestly unsuitable" for the job.
"There's also the track record of the bank," he added.
"The Co-op was a bank that was up to its ears in bad lending… and it did its full share of PPI mis-selling even as it was busy articulating its higher ethical principles."
Mr Flowers, who was chairman of the bank from April 2010 until June this year, appeared before the committee on 6 November.
The Mail on Sunday said he was filmed buying the drugs days after being grilled by the MPs.