Google and Microsoft agree steps to block abuse images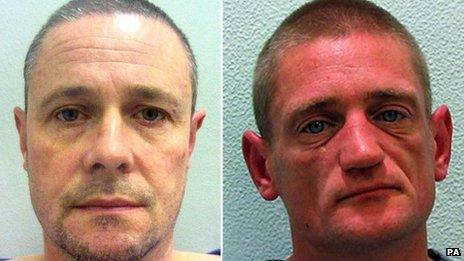 Leading search engine companies Google and Microsoft have agreed measures to make it harder to find child abuse images online.
As many as 100,000 search terms will now return no results that find illegal material, and will trigger warnings that child abuse imagery is illegal.
PM David Cameron has welcomed the move but said it must be delivered or he would bring forward new legislation.
Child protection experts have warned most images are on hidden networks.
In July, Mr Cameron called on Google and Microsoft's Bing - which together account for 95% of search traffic - to do more to prevent people getting access to illegal images.
He said they needed to ensure that searches which were unambiguously aimed at finding illegal images should return no results.
The issue of online images showing the sexual abuse of children has made headlines in recent months after the convictions of Stuart Hazell and Mark Bridger for the murders of Tia Sharp and April Jones.
Both Hazell and Bridger were known to have sought out and viewed child abuse images online.
On Monday, Downing Street said the government would be checking to see that internet companies acted "urgently" .
Google and Microsoft joined other internet firms, the National Crime Agency (NCA) and charities at Downing Street for an internet safety summit earlier.
At the meeting, the NCA's director general said initial tests showed that changes introduced by the search engines were working.
The prime minister told the meeting the UK would hold an international summit on the issue next year, with a "specific focus on protecting the victims of online child abuse".
Speaking after the summit, Mr Cameron said the next stage was to target the "dark internet" - where people share images online without making them publicly available.
He said Britain would work with other countries and use its "best brains" to catch people who share images of child abuse.
Now both companies have introduced new algorithms [software instructions] that will prevent searches for child abuse imagery delivering results that could lead to such material.
Google communications director Peter Barron said the changes, which had cleaned up the results for more than 100,000 queries that might be related to the sexual abuse of children, would make it "much, much more difficult to find this content online".
"We're agreed that child sexual imagery is a case apart, it's illegal everywhere in the world, there's a consensus on that. It's absolutely right that we identify this stuff, we remove it and we report it to the authorities," he said.
The restrictions will be launched in the UK first, before being expanded to other English-speaking countries and 158 other languages in the next six months.
Warnings - from both Google and charities - will make it clear child abuse is illegal.
Microsoft, which in a rare display of unity is working closely with Google on this issue, says its Bing search engine will also produce clean results.
Microsoft's general manager of marketing and operations Nicola Hodson said: "Day-to-day we're fierce competitors, and we collaborate on this issue because it transcends that.
"It will be much harder to find that content on both Bing and Google. We are blocking content, removing content and helping people to find the right content or also sources of help should they need that," she said.
Tory MP Claire Perry, Mr Cameron's adviser on the sexualisation and commercialisation of childhood, told BBC Radio 4's Today programme the new measures were a "great step forward".
"We're not declaring victory but this is a massive step in the right direction," she said.
Lyn Smith, grandmother of April Jones, who was killed by Mark Bridger in October last year, welcomed the plans for new online restrictions.
"I don't know if it's enough but it's a start. I'm glad David Cameron has got involved in this," she said.
But Jim Gamble, former head of the Child Exploitation and Online Protection Centre (Ceop), told BBC Breakfast he did not think the measures would make any difference with regard to protecting children from paedophiles.
"They don't go on to Google to search for images. They go on to the dark corners of the internet on peer-to-peer websites," he said.
He said search engines had already been blocking inappropriate content and the latest move was just an enhancement of what was already happening.
A better solution would be to spend £1.5m on hiring 12 child protection experts and 12 co-ordinators in each of the police regions to hunt down online predators, he added.
NSPCC chief executive officer Peter Wanless said "a concerted and sustained effort from all quarters" was needed to stay one step ahead of sex offenders, who were getting ever more technologically advanced.
"This is the key child protection issue of a generation - we cannot fail," he said.
A June report by Ceop highlighted how the "hidden internet" helped distributors of child abuse images evade detection by using encrypted networks and other secure methods.
Google and Microsoft have agreed to work with the UK's National Crime Agency and the Internet Watch Foundation to try to tackle networks which host child abuse images.
The two companies are also using their technological expertise to help in the identification of abuse images.