British man 'missing' after Philippines typhoon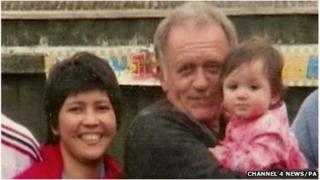 The Foreign Office says it is urgently looking into reports that a British man has gone missing in the aftermath of the Philippines typhoon.
Colin Bembridge, 61, from Grimsby, is reported to have been with his Filipino partner and their young daughter near the central city of Tacloban.
He was said to have been visiting his partner's relatives when the storm struck their hired beach house.
The Foreign Office said it was aware of reports of British deaths.
Beach wreckage
Mr Bembridge, a pharmacist, has a partner, Maybelle, 35, and daughter Victoria, aged three.
Maybelle's mother Lydia showed Channel 4 News the wreckage of the beach house where her daughter and granddaughter had been staying.
"I just want to know whether they are dead or whether they were blown by the winds," she said.
While searching the wreckage she found a dress belonging to Maybelle and a games console of Victoria's.
"Now that I am here I cannot see them. I am at a loss of where they are. My heart, it's hurting," she said.
A Foreign Office spokeswoman said it was "aware of reports of deaths of British nationals" by the typhoon.
Mr Bembridge's daughter Joanne Bembridge said he was missing in the Philippines.
She wrote on Facebook: "Still missing - please share! Maybelle Go, Victoria Go aged 3 and Colin Bembridge were last seen staying in baybay san jose tacloban.
"There are unconfirmed reports that they got washed away and missing. Please please share this with everyone and let me know any information you have."
Aid flight
In another message she said: "My Dad, Maybelle and Victoria are still missing - please speak to everyone you know to help find them.
"They were last seen in a house on BayBay, San Jose, Tacloban, Philippines - we think near to the Mayor's building. Please pass on this info to everyone you know and send information to this facebook page or mine if you know or hear anything, joanne bembridge."
Typhoon Haiyan, which hit last Friday, has killed at least 3,621 people and displaced more than half a million.
A huge international aid effort is under way but widespread infrastructure damage is hampering efforts to distribute supplies to some areas.
A US aircraft carrier and other American vessels have arrived in the Philippines where the UN estimates 11 million people have been affected by the typhoon.