Fijian soldier Filimone Lacanivalu allowed to stay in UK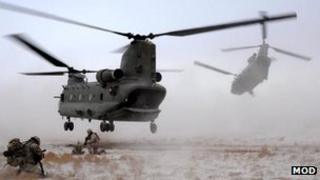 A soldier from Fiji has been granted the right to settle in the UK after he issued a plea to the prime minister.
Filimone Lacanivalu called on David Cameron to halt what he called an unfair plan to send him back to Fiji.
Mr Lacanivalu fought for British forces in Afghanistan and served in Northern Ireland and Bosnia with 2nd Battalion the Yorkshire Regiment.
The home secretary and immigration minister personally reviewed his case before deciding he could remain.
They said that in light of his service in the British army he should be granted settlement in the UK.
Mr Lacanivalu had been detained in an immigration centre for the past month.
He said he felt betrayed because of the way he was treated by the British authorities despite risking his life during nine years of service in the army.
Refused residency
Mr Lacanivalu served as a private, where he completed two tours of duty of Afghanistan.
But he was unaware in 2010 - when he left the army - that Commonwealth soldiers with at least four years of service needed to apply to the Home Office for the right to remain in the UK within 28 days at that time.
He assumed he would automatically qualify for residency in the UK thanks to his service, and was not told by the Army that he had to apply to stay.
The 34-year-old found out too late that he needed to send a form - and when he did he was refused.
When the former soldier went to a Home Office centre last month hoping to resolve matters he was immediately detained and told he would be flown back to Fiji the following Sunday.
However, following publicity about his case, the Home Office said Home Secretary Theresa May had personally reviewed it and Mr Lacanivalu has been granted the right to settle in the UK.
'Immense sacrifice'
Mr Lacanivalu told BBC Radio 4's Today programme: "I have been in the forces, I've put in effort, sacrificed my life for this country.
"I just think to stay here will be a benefit, there's more opportunities. I want opportunities just like any other British citizen," he said.
"I'm a happy man now."
Mr Lacanivalu now wants clearer guidelines be issued to all Commonwealth soldiers to prevent others making the same mistake.
Hugh Milroy, chief executive of the charity Veterans Aid, said it had at least 30 other cases of former troops from foreign and Commonwealth countries who had run into trouble over their right to remain in the UK after leaving the forces.
A Home Office spokesman said: "We recognise the immense sacrifice and contribution made by our armed forces and try to reflect this in the immigration rules.
"We adhere to the principle in the armed forces covenant, and aim to ensure that service personnel suffer no disadvantage as a result of their service.
"Foreign and Commonwealth military personnel who have served for more than four years can apply to settle here up to two years after leaving the military.
"Although Mr Lacanivalu applied to stay outside of this time, the Home Secretary and Immigration Minister personally reviewed his case and, in light of his service in the British Army, have agreed he should be granted settlement in the UK."