The hub of UK humanitarian aid effort in the desert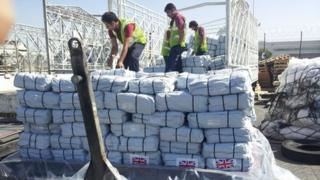 The UK government has given more than £20m in aid to help those displaced by the typhoon that devastated the Philippines last Friday. But what aid is being sent, from where?
It's been a week since Typhoon Haiyan struck the Philippines, killing at least 3,621 people and displacing more than half a million people.
Aid agencies say widespread infrastructure damage has hampered efforts to distribute aid, but food and supplies are now beginning to reach survivors.
But what supplies are being sent, from where?
The Department for International Development (DfID) says the UK has two hubs which hold stockpiles of kit which are "vital" to the UK's humanitarian effort and can be deployed at very short notice.
One is in Kemble, in Gloucestershire.
The other is thousands of miles away from UK soil in Dubai.
Dubai has the bigger stockpile of the two. DfID says the location is ideal for the same reasons the country is a global air and naval hub - it gives the best reach, allowing rapid despatch.
"Dubai is eight hours away from two-thirds of the world, which includes most countries at risk of natural disasters," says Dylan Winder, head of humanitarian response at DfID.
"We don't just have one warehouse, but five or six, which gives us the maximum capability to get as much out of them as possible as quickly as possible, without risks of blockage."
Two flights have already delivered 15,000 plastic shelter kits - which are suitable for a family of five - 2,400 tarpaulins, 20 water tanks and sanitation equipment from Dubai to the Philippines.
Pakistan, Haiti, Bangladesh and Burma have also benefited from stockpiles stored in the country after floods, hurricanes and earthquakes have created disaster zones.
Goods permanently stored there include tents for about 17,500 people, plastic sheets for about 75,000 people and up to 36,000 blankets.
There are also purification tablets and other means to provide people with drinking water, kitchen sets and buckets.
"We try to procure high-quality items from countries such as Pakistan, Kenya and India so that those countries also benefit from the procurement process," says Mr Winder.
Kemble holds a smaller stockpile, but is just as important, according to the DfID.
The warehouse - which used to be an aircraft hanger - contains some tents and goods, but a bigger stock of vehicles, and is often used to assemble equipment before it is airlifted to disasters zone.
"Kemble is vital in the supply chain which goes from supplier to warehouse, to mobilising and getting items out of the door. We don't hold everything in stock there but can buy things quickly and repackage equipment there - it's the hub of our operation," says Mr Winder.
"It's also relatively close to our headquarters in Whitehall, extremely good value for money and open 24/7. If London HQ is our command and control, Kemble is like Q from James Bond."
He says a Royal Air Force transport aircraft loaded with heavy duty vehicles and medical supplies - which took off from Brize Norton in Oxfordshire on Friday and is due to reach the Philippines on Saturday - will have been supplied with vehicles from Kemble.
Of course the emergency supplies from DfID's two main stockpiles are only part of the UK's relief effort.
The department estimates about £2m of the £20m aid given by the UK has been spent on them.
"Eight million went straight NGO partners as part of the rapid response," Mr Winder explains. They have their own stockpiles in warehouses around the world.
Expertise on the ground is also key. DfID has sent a number of staff to the main aid distribution hub in Cebu, including a logistics officer, humanitarian experts and a civil-military adviser.
A team of 12 medical experts from the UK, requested by the Philippines Department of Health, has also arrived in the country's capital, Manila.
Meanwhile the Royal Navy destroyer HMS Daring is expected to arrive in the Philippines on Friday.
It is due to be relieved by the aircraft carrier HMS Illustrious, which is currently in the Gulf, and is set to arrive on 24 November.