Sir Paul McCartney urges Putin leniency for Greenpeace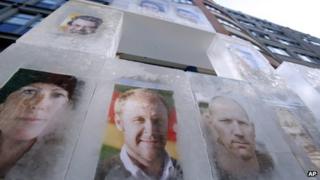 Ex-Beatle Sir Paul McCartney has written to Vladimir Putin, calling for the release of a group of detainees known as the Arctic 30.
In his letter to the Russian president, he expresses hope that the 28 protesters and two journalists could be home before Christmas.
They were arrested during a Greenpeace demonstration against oil drilling in the Russian arctic eight weeks ago.
The group - which includes six Britons - have been charged with hooliganism.
'Hugely respected'
In his letter, Sir Paul, who received a personal guided tour from Mr Putin a decade ago, addressed the Russian president as "Vladimir".
"Millions of people in dozens of countries would be hugely grateful if you were to intervene to bring about an end to this affair," he wrote.
"I understand of course that the Russian courts and the Russian presidency are separate. Nevertheless I wonder if you may be able to use whatever influence you have to reunite the detainees with their families?"
Posting the letter on his personal website, the singer said Mr Putin had yet to reply but that the Russian ambassador to the UK had told him the prisoners' plight "is not properly represented in the world media".
Greenpeace says there are five detention centres in St Petersburg and that the detainees have been split between them.
The charity say a further charge of piracy against the group has not yet been formally dropped, despite reports to the contrary.
The Britons being held are journalist Kieron Bryan from London, activists Philip Ball from Oxfordshire and Anthony Perrett from Newport in south Wales, logistics co-ordinator Frank Hewetson from London, communications officer Alexandra Harris from Devon, and second engineer Iain Rogers from Exeter.
They were arrested when Russian security sources stormed the ship following the demonstration.
Executive director of Greenpeace International Kumi Naidoo said: "Sir Paul is hugely respected in Russia, and so we hope his letter brings the day closer when those thirty brave men and women are back with their families."