Archbishop urges Catholics to take 'modern life' survey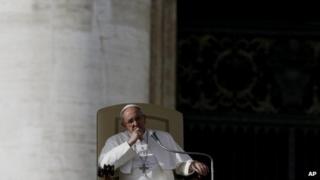 Catholics in England and Wales are being urged to complete a worldwide survey into how they think the Church deals with issues such as contraception and gay marriage.
Pope Francis launched the unprecedented questionnaire earlier this month.
The responses will help form new Vatican guidance for an estimated 1.2bn followers to be published in 2015.
The Archbishop of Westminster, Vincent Nichols, said it would help Catholics face the "ambitions of modern living".
The Roman Catholic Church in England and Wales was the first in the world to put the survey online, and is encouraging all Catholics to respond by a 30 November deadline.
The results are likely to confirm differences between the Church's guidance and the behaviour of its adherents.
'Moral teaching'
"The Pope has led us to pay attention to the experiences of people," Archbishop Nichols told BBC Breakfast.
"On the one hand we must work to follow Christ, but on the other hand we have to face all of the ambitions of modern living."
The head of the Roman Catholic Church in England and Wales also said that Catholics should be prepared to "listen" to arguments about same-sex marriage - even if it made them "uncomfortable".
"Listening never did us any harm," he said. "God gave us one mouth and two ears. The fact that we may hear things that make us uncomfortable - that's fine."
And Archbishop Nichols revealed that in launching the survey, the Pope hoped for a "fairly long period of reflection" to explore how the Catholic Church could remain "true and faithful" to its followers and to its core beliefs.
Pope Francis, who was elected in March, has struck a different tone to his predecessor on a range of issues.
He said recently the Church was too focused on preaching about abortion, gay people and contraception.
And he made headlines when he said it was not up to him to pass judgement on the sexual orientation of clergy.
The 39-question survey seeks views on issues such as what "pastoral attention" can be given to those in same sex relationships.
It asks whether Christians today are aware of "how morally to evaluate different methods of family planning" and whether "this moral teaching is accepted".
The survey is intended to give Catholic bishops around the world information ahead of a special meeting to discuss the Church's policy on the family next autumn.
Although there is no suggestion the Pope intends to change formal doctrine or belief, the survey is being seen by some observers as a further sign of his intention to reform the church.
Your comments
Below is a selection of comments sent in by BBC News website readers.
I am very much Catholic but I am also very much gay. The fact that the Catholic Church has now a leader who is willing to accept these two identities as not mutually exclusive fills me with hope. Pope Francis has the power to change the world - certainly my world - and I am proud to be part of his movement of acceptance and understanding within the Catholic Church. Clare, Luton.
I filled the questionnaire when first came out and I think it is a very good idea. It is a broad questionnaire about pastoral care which asks firstly who you are, therefore different questions will be more applicable to different people. Personally, I very much welcome the marriage, family and contraception questions which I filled in great detail. Paula Thompson, Reading.
The questionnaire is far too wordy and is jam-packed with Orwellian Vatican II (Second Vatican Council) doublespeak. Were Catholics meant to understand the questions? I don't think so. The Vatican is simply looking for an excuse to dismantle the church's moral teaching and is using a phony democracy to assist them. Joe Bevan, Dover.
As an out gay Catholic I have been surprised but really very satisfied with the new Pope's slow but discernible movement away from the orthodoxy on homosexuality. This survey is warmly welcomed and I hope that by listening the Church will learn to accept diversity in sexuality. Darryl Telles, Brighton
The Catholic Church does not need reforming. The Catholic Church has always taught the true teachings of God. Abortion, same-sex marriage, practising homosexuals and contraception are all against the law of God. This is our belief and cannot nor should it be changed. Arthur Croker, Cheddar.
This is hardly a survey. You would need a Master of Philosophy in religious studies to comprehend the terminology in this survey. Lyndon, Barnsley.
I think that the Catholic Church is doing the right thing by moving with the times. Although I am not a devout Catholic, I do believe in the ideals and morals that being Catholic entails. Society is changing so much, and the Catholic Church does well to try and embrace the changes in society. Robert Butler, Halifax.
Catholic doctrine and teaching are timeless and not subject to alteration. When the world around us crumbles, it is these absolute, eternal truths that make the Catholic Church so attractive in an era of ever increasing moral decline. Pope Francis is right to emphasise liberal social concerns for the marginalised and poor but shouldn't abandon two millennia of doctrine established by Jesus Christ himself. Mark, Littlehampton.
This is the kind of action I've been hoping for as a young Catholic. As the church in the UK is ageing, the young are left to be the real front-line in the face of modernity and the ultra-conservative line being taken is not conducive with modern living. I want change and finally it seems as though I have a mouth piece to use. Sam, Leeds.