Black people 'more likely' to be arrested
By Alan Soady
Political reporter, BBC News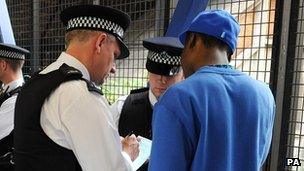 Black people are three times more likely to be arrested than white people, Ministry of Justice figures for England and Wales show.
People of mixed ethnicity are twice as likely as white people to be detained.
Black suspects made up 8.3% of the total number of arrests in 2011-12. Black people account for 3.1% of people aged over 10 in England and Wales.
White suspects made up 79.5% of arrests during this time - out of a population of 87.1%.
Meanwhile, people of mixed ethnicity accounted for 3% of arrests and make up 1.7% of the population.
There was not a disproportionately high number of arrests for those deemed to be of Asian or "Chinese or other" ethnicities.
In total there were 1,235,028 arrests in England and Wales in 2011/12.
Of those detained, 982,393 were categorised as white; 102,424 black; 37,628 mixed race; 72,443 Asian; and 17,444 "Chinese or other".
The MoJ report - which is published once every two years - contains a large number of statistics on the ethnicity of those involved in different ways in the criminal justice system.
The figures confirm that in 2011-12 someone black was six times more likely to be stopped and searched under Section 1 of the Police and Criminal Evidence Act than someone white.
Asian and mixed-race ethnic groups were just over twice as likely as a white person to be stopped and searched.
These statistics are in line with figures published earlier this week by the Equality and Human Rights Commission.
Policing minister Damian Green said: "Nobody should ever be stopped just on the basis of their skin colour or ethnicity.
"This is why we consulted over the summer on the powers of stop and search - and we received a strong response".
The number of racist incidents has shown a steady decline.
There were 47,678 racist incidents recorded in 2011/12 - a fall of 8% on the previous year; and down 18% from 2007/08. But nine out of the 43 police force areas had an increase in racist incidents between 2007/08 and 2011/12.
The Cleveland force recorded the largest percentage rise - up 105%. The other forces were: Gwent, Humberside, Lincolnshire, Norfolk, North Yorkshire, South Wales, West Mercia and Wiltshire.