British carrier HMS Illustrious to aid typhoon victims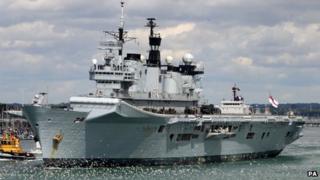 The aircraft carrier HMS Illustrious will be sent to help people affected by the typhoon in the Philippines, Prime Minister David Cameron has said.
Speaking on a visit to India, Mr Cameron also said the UK government had now given more than £20m in aid.
Meanwhile, the Disasters Emergency Committee (DEC) said its UK appeal had raised £23m in its first 48 hours.
Typhoon Haiyan, which hit on Friday, killed at least 2,300 people and displaced more than half a million.
HMS Illustrious is currently in the Gulf and is expected to arrive in the Philippines on 24 November.
The carrier will relieve destroyer HMS Daring, which is already on its way to the country and should arrive on Friday.
'Absolute tragedy'
Mr Cameron said helicopters from HMS Illustrious would be used to take food and water to people stranded in remote parts of the Philippines, which is made up of more than 7,000 islands.
The carrier, which currently has 900 crew and seven helicopters, has equipment to provide water suitable for drinking, which Mr Cameron said was badly needed.
"What happened in the Philippines is an absolute tragedy," he said.
"You can see the devastation, the suffering, and it's quite clear that we are going to need long-term help for those people."
The Royal Navy said almost all of its ships carried supplies and equipment for use in such emergencies and added its crews were trained for dealing with humanitarian disasters.
HMS Daring has more than 200 personnel on board including a doctor, a dentist, engineers and a chaplain. It is also carrying members of the Royal Marines band who, as a secondary role, are trained first aiders.
The ship holds 700 ration packs, can provide more than 20,000 litres of water, and has other equipment including generators and thermal-imaging cameras.
The UK is also sending aid to the Philippines by air. The first flight arrived at 16:00 GMT on Tuesday.
A specialist cargo aircraft loaded with equipment to speed up the offloading of relief supplies at airfields and help with rubble clearance was also deployed.
A team of 12 medical experts from the UK, requested by the Philippines Department of Health, has also flown to the country.
Secretary of State for International Development, Justine Greening, said Britain was "helping thousands of people in desperate need".
Elsewhere, the Ministry of Defence said it would be deploying a Royal Air Force C-17 military transport aircraft in the early hours of Friday morning.
'Remarkable' support
A huge international aid effort is under way, but widespread infrastructure damage is hampering efforts to distribute it to some areas.
A US aircraft carrier and other US vessels have already arrived in the Philippines, where the UN estimates 11 million people have been affected by the typhoon.
The DEC, which brings together 14 major UK charities, launched its appeal on Monday and said the response from the public had been "remarkable".
DEC chief executive Saleh Saeed said: "This has already become one of our most generously-supported appeals but there is still a huge humanitarian need for help."
Paul Jenkins, of the British Red Cross, one of the DEC's members, said: "We are so amazed that the generosity of the British public - in very difficult times for everybody - is still there."
He said the priority was to get "goods and supplies" to those most in need as quickly as possible.
Planes carrying British Red Cross aid have started landing in the Philippines following early difficulties due to the damage done by the storm, Mr Jenkins added.
Justin Forsyth, chief executive of Save the Children, said: "These are extraordinary figures, and this allows us to get aid right into the heart of this catastrophe.
"Aid is beginning to get through even in the worst affected areas. Save the Children has landed a plane today in Cebu and all the Disasters Emergency Committee agencies are there trying to do their best, but we need to get more aid in and very quickly."
British couple Andrea Agarwal and Trevor Holmes, who own a dive centre in the island of Malapascua, have been helping with the aid effort.
They were not on the island at the time the typhoon hit but said their bar and restaurant was destroyed. They have been co-ordinating aid efforts from the island of Cebu, 360 miles south of Manila.
"We have started a fund for donation and we managed to raise around 30,000," said Ms Agarwal. "The island is relatively small, with about 7,000 people. But the situation there is very devastating."