Typhoon Haiyan: UK's Philippines appeal raises £13m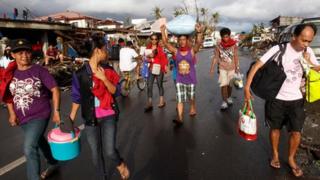 An appeal by UK charities to help Philippines typhoon victims has raised £13m ($20m) in its first 24 hours.
The storm hit the Philippines on Friday, killing more than 2,000 people, and the Disasters Emergency Committee (DEC) launched its appeal on Tuesday.
The DEC, which brings together 14 major UK charities, said the response had been "overwhelming".
The UK government has pledged to match donations up to a total of £5m, on top of £10m it has already agreed to give.
DEC chief executive Saleh Saeed said much of the money donated would help emergency teams provide essentials such as food, water and temporary shelter.
"It's clear that people are getting desperate," he said.
"It's vital that we continue to respond to their needs, and that the UK public continues to give."
John Plastow from one of the DEC charities, Care International, said: "We need resources so we that can respond to the huge food, water and shelter needs that are there on the ground and are likely to remain for a long time to come."
The Salvation Army UK and Ireland has launched its own disaster appeal for the Philippines.
Local representatives from the organisation, which has 79 churches in the country, is making arrangements with the Philippine Air Force to transport food parcels, water and medical supplies. Its officers have also been visiting some of the affected areas.
'Struggling to survive'
The DEC said the amount of money given had exceeded the donations received in the first 24 hours of previous appeals, after disasters such as the 2010 Haiti earthquake.
Mr Saeed added: "The initial public response has been overwhelming - people have given so generously in such a short space of time.
"They have obviously been moved by the heart-breaking stories coming out of the Philippines of those struggling to survive."
The money has been raised from online, text and phone donations.
Officials in the Philippines said 2,275 people were confirmed dead and at least 3,665 were injured.
The UN says more than 11 million people may have been affected and some 673,000 displaced by Typhoon Haiyan.
The first UK aid flight has arrived in the Philippines, carrying almost 9,000 emergency shelter kits.
The kits, flown from UK stores in Dubai and to Cebu airport, each contain equipment such as plastic sheeting and rope designed to shelter a family of five.
Charity World Vision, one of DEC's members, will distribute the kits.
The Department for International Development (DfID) said several other UK humanitarian flights were due to land in the Philippines in the coming days.
They would be delivering forklift trucks, 4x4 vehicles and cutting equipment to help clear and reopen runways and roads.
A 12-strong emergency medical team, requested by the Philippines Department of Health, and a Royal Navy ship are also on their way to the country.
Captain Angus Essenhigh, of HMS Daring, said he expected the ship to arrive on Saturday.
He told the BBC its mission would be to provide "life-saving assistance" such as water, shelter and food.
Meanwhile, US military planes have been arriving at Tacloban, a devastated city of 220,000 on Leyte island, delivering World Food Programme supplies, which can be carried by helicopter to outlying regions, and a French-Belgian field hospital has been set up.
The charities that make up the DEC are Action Aid, Age International, British Red Cross, Cafod, Care International, Christian Aid, Concern Worldwide, Islamic Relief, Merlin, Oxfam, Plan UK, Save the Children, Tearfund and World Vision.
To donate to the DEC appeal, people can visit the committee's website
Call 0370 60 60 900
Send a cheque made payable to DEC Philippines Typhoon Appeal to PO Box 999, London EC3A 3AA
To donate £5 you can text DONATE to 70000. Texts cost £5 and the whole £5 will go to the DEC Philippines Typhoon Appeal. You must be over 16 and ask the bill payers permission. For terms, conditions and full information go to dec.org.uk