Hacking trial: Calum Best 'encouraged NoW intrusion'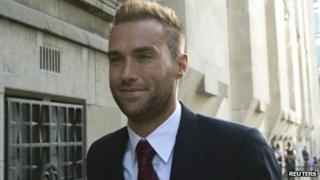 A jury at the hacking trial has heard Calum Best, son of footballer George Best, admit he had "actively encouraged" some media intrusion.
The Old Bailey heard he was paid £3,000 by the News of the World for articles about the death of his father in 2005.
He also received £2,000 for a story about an incident in a nightclub.
Mr Best's phone was allegedly targeted on the orders of former NoW editor Andy Coulson and head of news Ian Edmondson. Both men deny the charges.
Sexual encounter
At one point the former Celebrity Love Island contestant was asked by Tim Langdale QC, representing Mr Coulson, to comment on "some media intrusion you have actively encouraged yourself?" He replied "correct".
He said he was paid £2,000 for a story about a sexual encounter in a nightclub with model Elizabeth Jagger, the daughter of Rolling Stones singer Mick Jagger, which was caught on CCTV.
Mr Best also acknowledged he had "reckless" spending habits.
The court was shown several pages from a notebook belonging to convicted hacker Glenn Mulcaire which showed handwritten details of Mr Best's mobile number and the number of Lorna Hogan, a glamour model Mr Best had a relationship with for two months.
Ms Hogan told the trial she had a deal with the NoW to sell "gossip" gained from her nightclub encounters with celebrities, earning between £3,000 and £10,000 for stories.
She said during the relationship with Mr Best she became pregnant, and after meeting Mr Edmondson she provided a series of stories which appeared with the headlines, "Lust Like Dad", and "I am having Calum Best's Baby".
She said Mr Edmondson had tried to pressurise her into selling the newspaper a scan of her daughter, but under questioning from his lawyer she denied being paid for it.
Mr Best is claimed to have heard about this and sent her a text saying: "How could you be so low to sell a picture of an unborn child?"
The court previously heard that Mr Edmondson allegedly tasked Mulcaire with hacking Mr Best to obtain information. There is no evidence that he was ever hacked, but Mulcaire "blagged" Mr Best's number and Mr Coulson allegedly told Mr Edmondson to "do his phone" when it was suggested Mr Best may be a "leak".
In other evidence on Wednesday morning prosecutors said:
Mulcaire was found to have 76 recordings of voicemail messages relating to the head of the footballers' union, Gordon Taylor, whose phone had been hacked 15 times by Mulcaire
The phone of the UKIP leader Nigel Farage was hacked in 2006 when he had an alleged affair with a woman called Liga Howells. The NoW printed a story headlined "Euro MP - cheats on his wife with a woman"
Mulcaire intercepted the voicemails of actress Sienna Miller and her childhood friend Archie Keswick in 2005. It coincided with a number of stories about Miss Miller and ex-boyfriend Jude Law, and that Mulcaire had also hacked Jade Schmidt, the nanny of Law's ex-wife Sadie Frost
Rebekah Brooks, who is a defendant in the trial was herself, was "extensively hacked" and was asked by police if she would give evidence as a witness
Mr Coulson, 45, from Charing in Kent, and Mr Edmondson, 44, from Raynes Park, south west London, deny charges of conspiring to intercept communications.
They are among eight defendants with links to the now-defunct News of the World.
The trial continues.