David Dimbleby tattoo raises question of scorpion's legs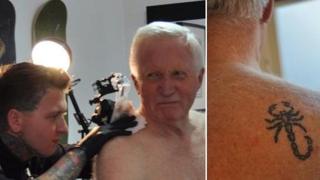 How many legs does a scorpion have?
If you look closely at the design recently tattooed onto the skin of BBC Question Time presenter David Dimbleby, the answer appears to be six.
But scorpions - members of the arachnida class along with spiders - actually have eight legs, as well as their distinctive pincers.
So the big question for the 75-year-old broadcaster is whether there is a sting in the tail following his first venture into the world of tattoos - and has he left himself a little short in the leg department?
Asked if there was such a thing as a six-legged scorpion, an expert at London Zoo's invertebrates section told the BBC News website that while there were always exceptions in the animal kingdom - "there are birds that don't fly" - he was unaware of any six-legged scorpions.
The related arachnids known as whip scorpions only had six "walking legs", he added - but they had two more legs which they used as feelers.
The Natural History Museum was also adamant that scorpions have eight legs, not six - "unless you were to chop two of them off".
However, a spokesman did point out that some insects (six-legged arthropods) can look a bit like scorpions, for example, the Devil's Coach Horse.
Mr Dimbleby's agent said the presenter was unavailable for comment. However, the east London studio which drew the tattoo told the BBC website that staff had reproduced a design which Mr Dimbleby provided.
It should be noted that the 2004 single The Scorpion by the American thrash metal band Megadeth features a scorpion with only six visible legs on its cover, but it is not known whether Mr Dimbleby is a fan of their output.
Speaking earlier to the Radio Times, Mr Dimbleby said: "You are only old once. I have always wanted a tattoo."
He added that the tattoo represented his star sign, Scorpio.
He got the tattoo while making the maritime series, Britain and the Sea, which will be shown on BBC One on Sunday.
Since Mr Dimbleby's scorpion tattoo, his brother and fellow broadcaster Jonathan has tweeted: "How do you know I haven't got a tattoo already - just more discreet about it?"
And his BBC colleague Jane Garvey, presenter of BBC Radio 4's Woman's Hour, tweeted: "I've had a tattoo of David Dimbleby for years. Who hasn't?"
And comedian Jack Dee tweeted: "Just seen Dimbleby park his Harley outside Leather-Jackets-R-Us. "Welcome to Question Time" or "Yo, Wha's up?" As it's now called."
Britain and the Sea, made in partnership with the National Maritime Museum, starts on Sunday 17 November at 21:00 GMT on BBC One.