Hacking: Tessa Jowell's phone 'hacked 29 times'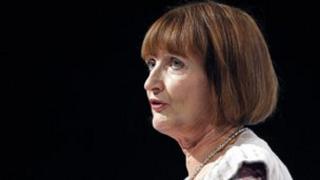 A phone belonging to MP Tessa Jowell was hacked 29 times in five months for the News of the World, the jury in the phone-hacking trial has heard.
Private investigator Glenn Mulcaire targeted the voicemail account of the former minister and her husband David Mills, the Old Bailey was told.
The jury was told of messages between former NoW head of news Ian Edmondson and Mulcaire relating to the couple between 4 March and 25 July 2006.
Mr Edmondson denies phone hacking.
There was also evidence of multiple calls by Mulcaire to Ms Jowell's voicemails, and of one call from a News International office line to the account.
The calls related to a period when Mr Mills had been accused of involvement in bribery linked to former Italian leader Silvio Berlusconi.
Prosecutor Mark Bryant-Heron told the jury the NoW published a number of stories about the former Labour minister and her husband over the same period.
One recording of a voicemail left for Ms Jowell, from a friend, was found at Mulcaire's home, in addition to invoices charging the paper for information relating to the couple.
An email shown to the jury from Mulcaire to Mr Edmondson included the phrase, "substantial traffic both ways, also looks like she's selling up".
The jury also heard that Kate Middleton and Boris Johnson's names were found on a hand-written page titled "Target Evaluation" at Mulcaire's home.
The 18 names on the list also included Angelina Jolie's British stunt double, PR man Max Clifford, former England football manager Sven-Goran Eriksson, Tom Parker Bowles and Kerry Katona.
Rooney warning
The jury also heard that a Liverpool massage parlour receptionist had told Wayne Rooney to get out "before he was destroyed and his career was over".
Newspapers writing about the player's "suggested use of prostitutes" had published untrue claims that Patricia Tierney had sex with him in a parlour in 2004, the court heard.
But Ms Tierney said in a statement read to the court that she had warned the footballer to leave.
She said: "It was alleged I had a sexual encounter with Wayne Rooney and he paid me for sex when I was working at a massage parlour.
"I do recall Wayne Rooney visiting with a number of other males. Several days later he came on his own.
"This time I pushed him into a room and told him to pull his hat down and get out before he was destroyed and his career was over."
The court heard the story first appeared in the Sunday Mirror and was later followed up by The Sun, with several articles appearing in the daily tabloid.
The jury was told that Angelina Jolie's British stunt double was also investigated after the actress began her relationship with Brad Pitt in 2005.
Former Gladiators contestant Eunice Huthart was working on the action film Mr And Mrs Smith in Los Angeles in July 2005 when her mobile phone details and pin number appeared in Mulcaire's notes.
The court also heard that Mulcaire hacked into the voicemail accounts of journalists from the Mail on Sunday, who were believed to be working on a story about Lord Prescott and an affair with his diary secretary Tracey Temple.
Dennis Rice and Sebastian Hamilton had their mobile phones hacked by Mulcaire and their voicemail accounts were also hacked from a landline from the News International newsroom.
The jury were told that 24 voicemails from Mr Rice's voicemail account were identified by him after recordings were found at Mulcaire's home. A further five voicemail recordings from Mr Hamilton's account were also identified.
Mr Edmondson, 44, from Raynes Park, south west London, denies charges of conspiring to intercept communications. He is among eight defendants with links to the now-defunct News of the World.
The trial continues.