Bomb detector conman James McCormick loses appeal bid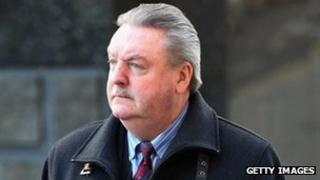 A UK businessman who sold fake bomb detectors around the world has lost a challenge against his 10-year sentence.
Court of Appeal judges rejected an application from convicted fraudster James McCormick, 57, from Somerset, for leave to appeal against the sentence.
His barrister argued the term was excessive and the previous judge had put too much weight on lives lost in Iraq because of his bomb detectors.
Judge Elgan Edwards said McCormick knew what he was doing and profited hugely.
"The circumstances were quite appalling. The applicant knew precisely what he was doing," he told the court.
"He did it for enormous profit and that conduct simply cannot and will not be tolerated."
He added: "If this case does not merit the maximum possible sentence, I don't know what does."
During the hearing, McCormick's barrister said there was no evidence that lives were lost in Iraq because of his detectors and argued that they may still have deterred terrorists from attempting to carry bombs through checkpoints.
'Useless' device
Earlier this year, the Old Bailey heard how McCormick made £50m selling more than 7,000 fake devices, modelled on a novelty golf ball finder, to countries including Iraq, Georgia, Romania and Niger.
Some 1,000 were sold to police and military forces, including United Nations peacekeepers in Lebanon.
Old Bailey judge Richard Hone said in April the fraud "promoted a false sense of security" and contributed to death and injury.
"The device was useless, the profit outrageous, and your culpability as a fraudster has to be considered to be of the highest order."
During the fraud trial, prosecutors said the justice and foreign affairs ministries in Baghdad were hit by truck bombs - which drove through the checkpoints where the useless devices were operated.
The "inescapable conclusion" was that Iraqis died because of their use, the prosecution said.
McCormick's defence counsel argued, however, that other devices were also used at checkpoints and there was no proof that his client's had cost lives.
McCormick, who maintained throughout the trial that the detectors worked, is facing a confiscation hearing to recover millions of pounds.
How the device was meant to work:
1. A small amount of the substance the user wished to detect - such as explosives - was put in a Kilner jar along with a sticker that was intended to absorb the "vapours" of the substance
2. The sticker was then placed on a credit-card sized card, which was read by a card reader and inserted into the device
3. The user would then hold the device, which had no working electronics, and the swivelling antenna was meant to indicate the location of the sought substance