Relocation for terror suspects 'should be brought back'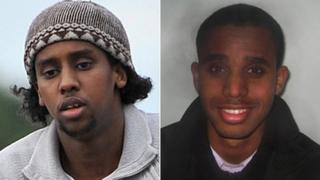 The home secretary should be able to relocate terror suspects to another part of the country, Labour says.
Shadow home secretary Yvette Cooper called for the powers to be brought back after a man under a government order restricting his movements absconded disguised in a burka last week and has not been seen since.
Mohammed Ahmed Mohamed was subject to a terrorism prevention and investigation measure (TPim).
Labour say TPims watered down controls.
It has been reported that the government is reviewing the measures which were introduced last year and replaced the much more restrictive control orders.
Ms Cooper has written to Theresa May, urging her to re-introduce previously available powers to forcibly move suspects around the country.
She said Ms May could face allegations of a U-turn but pledged to support the government "on a cross-party basis" if it brought back the relocation powers.
Mr Mohamed, allegedly linked to Somali militant group al-Shabab, disappeared from a west London mosque last week.
He had been relocated to Ipswich when subject to a control order but moved back to London when the restriction was lifted.
This followed the case of Ibrahim Magag - also under a TPim - who went on the run last Boxing Day.
"No terror suspect under a relocation order ever managed to abscond," Ms Cooper wrote to the home secretary.
"Now two terror suspects who were previously relocated and then returned because of your decision have absconded.
"Your decision, against advice and warnings, to end relocations has made it much easier for two dangerous men to disappear."
Labour made the call as MPs prepare to question independent reviewer of terror legislation David Anderson QC and Charles Farr, director general for security and counter-terrorism.
Ahead of the home affairs select committee meeting on Tuesday the party urged Ms May to apologise for "increasing the risk to public safety".
"Will you now accept that the decision to end relocations was a very serious error of judgement and has led directly to two out of the ten terror suspects on TPims now absconding?" Ms Cooper wrote.
Missing Mr Mohamed, 27, was already facing 20 charges for allegedly breaching the conditions of a TPim and of an earlier control order.