Syria kidnap case against doctor dropped by prosecution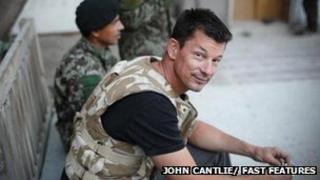 The case against an NHS doctor accused of kidnapping two journalists in Syria has been dropped by prosecutors.
Shajul Islam, from east London, was alleged to have been part of a jihadist group which held the men, including Briton John Cantlie, in July 2012.
Charges against two other men - Shajul Islam's older brother Najul, and Jubayer Chowdhury - were also dropped.
The prosecution told Kingston Crown Court the case rested on the evidence of two witnesses it was unable to call.
'Played no part'
Prosecutor Mark Dennis told the court: "A problem arose for the prosecution which serves to frustrate the trial from the point of view of the prosecution.
"The two victims in the case are the two prosecution witnesses on which the case rested wholly on their evidence. The prosecution are unable to call either victim for the purposes of the trial listed today."
Mr Dennis said the prosecution had considered asking for the case to be adjourned or for the victims' evidence to be read as hearsay, but had concluded neither would be possible.
Judge Nicholas Price said: "I understand, and I formally record verdicts of not guilty for each of the three defendants. So they therefore can be discharged."
Henry Blaxland, representing Shajul Islam, said: "Shajul Islam was in Syria as a newly qualified doctor after responding to calls to assist.
"He played no part in the kidnapping, and is relieved this has come to an end."
Escape attempt
Shajul Islam, 27, trained as a doctor at St Bart's Hospital and the University of London Hospital.
The prosecution had claimed that soon after qualifying, Shajul Islam travelled to Turkey where he met up with Mr Chowdhury.
The two men were said to have crossed into Syria where they were alleged to have joined a group of foreign jihadists fighting the Assad regime.
In July 2012 two journalists who had gone into Syria with a local guide near the town of Bab al-Hawa were taken hostage.
Freelance British photographer Mr Cantlie was travelling with Dutch journalist Jeroen Oerlemans. Along with their guide they were handcuffed and blindfolded by the group.
Mr Cantlie later described being held by about 30 jihadists from around the world. He said as many as 15 appeared to be from the UK.
The men were shot and wounded attempting to escape. Their guide made a break for it and managed to raise the alarm.
Airport arrest
Fighters from the Free Syrian Army freed the two journalists after they had spent a week in captivity during which Mr Cantlie said they were threatened with beheading.
Shajul Islam was arrested flying into Heathrow with his wife and baby in October 2012.
He was charged with false imprisonment and accused of being a jihadist with international connections. He was suspended from practicing medicine.
Jubayer Chowdhury, 25, was charged with false imprisonment.
Najul Islam, 32, a civil servant, was charged with engaging in conduct in preparation of terrorist acts. He was accused of supplying funds and equipment to the two men.
All charges against the men - which they had denied - have been dropped.
Mr Cantlie worked for various newspapers including the Sunday Times.