Archbishop Welby: Show love and affection at Christmas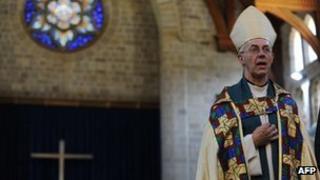 The Archbishop of Canterbury urged families to show "love and affection" at Christmas rather than giving expensive presents.
The Most Rev Justin Welby said families should not to make their lives "miserable" by trying to keep up with "ridiculous" pressures to spend money.
He admitted it was a "cliche of modern life" to complain about materialism.
But he said the "over-the-top" consumerism of the festive season was putting relationships under strain.
In an interview with The Martin Lewis Money Show, to be broadcast on Tuesday night on ITV, he said: "It's a cliche of modern life that someone gets up and says Christmas is becoming very materialistic as though it wasn't 300 years ago.
"Yes obviously the secular over-the-topness, everything you have to have, new clothes you have to have, new this, new that, new the other, is ridiculous, it's absurd, it shouldn't happen. It puts pressure on relationships because when you're short of money you argue.
"You get cross with your kids more easily, it spoils life."
'Be generous'
The archbishop said that if he suggested that people should stop giving Christmas gifts, no-one would listen.
"It's obviously not what Christmas is about but to be absolutely honest, there's not that much point in saying it because nobody's going to pay attention," he said.
He added: "Giving at Christmas reflects that generosity of God. So be generous in a way that shows love and affection rather than trying to buy love and affection," he said.
"You can't buy it, you can show it, and when you show it, it comes back at you with interest.
"Save up for the Christmas budget, be sensible, don't put pressure on your finances - don't make your life miserable with Christmas.
"Share love and affection with reasonable gifts that demonstrate you really care for someone. That makes for the best Christmas you could ever have."