Water report 'says fracking is safe'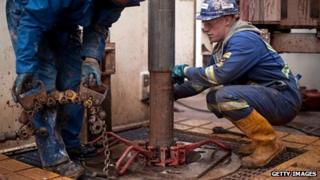 A study by the water industry has concluded that "fracking" to extract shale gas is safe, the government says.
Opponents say water used in the process could be contaminated and could enter domestic supplies.
UK Water Industry Research, a research body set up by water companies, is to release a report by the end of 2013.
Meanwhile, energy minister Michael Fallon has said shale gas exploration could soon take place in Wiltshire, Hampshire, Surrey, Sussex and Kent.
Mr Fallon told the Daily Telegraph that, while exploration has so far been focused on the North of England, areas "right across the South" and the Midlands could also be investigated.
Mr Fallon said: "There are genuine concerns, but there are also myths and we are tackling them."
The Conservative MP for Sevenoaks added that the regulatory barriers to fracking had been lowered.
Legal challenges
The Department for Energy and Climate Change said a report being released later this year would conclude the process of extracting shale gas from rock would not contaminate the water supply.
A spokesman for Water UK, which represents the industry, said: "There are risks. But they're risks we feel could be mitigated."
But Friends of the Earth south east campaigner Brenda Pollack said: "Despite all the government hype, people across the South have made it perfectly clear that they are opposed to fracking."
Fracking - or hydraulic fracturing - involves pumping water and chemicals into shale rock at pressure.
It was temporarily banned in the UK after it was blamed for two earth tremors in Blackpool in 2011 but a government review concluded it was safe if adequately monitored.
Efforts to explore its possible use in Balcombe, West Sussex, sparked protests earlier this year and last month Greenpeace said it was planning legal challenges to stop companies from fracking in England.
Greenpeace spokeswoman Anna Jones said fracking "is risky for local environments, risky for our water supplies and risky for the global climate".
"People are right to stand up and say 'Not under my land you don't.'"
'Get on with shale'
Greenpeace said a number of residents in areas of potential fracking sites, including Sussex and Lancashire, were joining the campaign.
Mr Fallon has previously expressed support for fracking.
In October, he said it would be "irresponsible" not to support firms trying to access shale gas and predicted dozens of test wells would be drilled over the new few years.
And, in August, he defended comments he made apparently joking about the effects of fracking on people living nearby after he told a private meeting the possibility of the process starting in various southern counties was being explored.
"All these people writing leaders saying, 'Why don't they get on with shale?' We are going to see how thick their rectory walls are, whether they like the flaring at the end of the drive."