Greenpeace charges are excessive, says David Cameron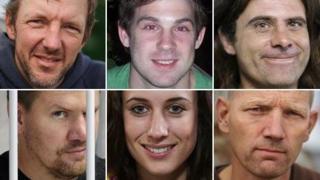 The charges against 30 people detained in Russia following a Greenpeace protest in the Arctic are excessive, Prime Minister David Cameron has said.
The 28 activists and two journalists - including six Britons - were charged with hooliganism after the oil drilling protest in September, and remain in pre-trial detention in Murmansk.
Mr Cameron urged president Vladimir Putin to make sure they return home.
He told BBC Devon he had appealed to Mr Putin to "de-escalate" the situation.
The protesters were originally charged with piracy, but Russian authorities dropped the charges last week, replacing them with hooliganism, which carries a lesser sentence.
'Not hooligans'
Mr Cameron said he spoke to the Russian leader earlier this week about the situation.
"Their charges have been dropped from piracy to hooliganism, but I still think that is excessive. They are not hooligans, they are protesters," Mr Cameron told BBC Radio Devon.
"I totally understand that countries have to have some quite tough rules to stop people invading oil platforms, but I have appealed to Vladimir Putin to try to de-escalate this and make sure that these people can go home."
The prime minister's spokesman said Mr Putin "understands" Mr Cameron's concerns and the pair had agreed to stay in touch.
"This is now in the hands of the judicial authorities in Russia," the spokesman said.
"We have made the representations that we have and we are going to use our diplomatic influence to continue ensuring that the Russian authorities understand the importance that we attach to resolving this."
Last week video journalist Kieron Bryan, 29, from London, said he was locked up for 23 hours a day and feared "losing years of his life".
Greenpeace denies any wrongdoing and is calling for the release of the detainees - who come from 18 countries - and the Arctic Sunrise.
The other Britons being held are activist Philip Ball, of Oxfordshire, logistics co-ordinator Frank Hewetson from London, activist Anthony Perrett from Newport in south Wales, communications officer Alexandra Harris, originally from Devon and 2nd engineer Iain Rogers, from Exeter.
They were held when Russian security sources stormed the ship six weeks ago following the demonstration.