David Miranda court case hears journalism 'no defence'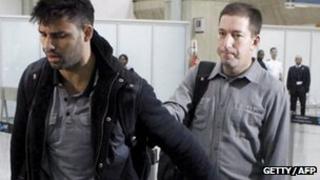 Journalism is no defence when it comes to the possession of stolen state secrets, the High Court has been told.
Judges are examining claims police unlawfully detained David Miranda, partner of former Guardian journalist Glenn Greenwald, at Heathrow Airport.
Mr Greenwald has written a series of stories about state surveillance based on leaked documents.
The Home Office argues officers were right to hold and seize material from Mr Miranda on 18 August.
Mr Greenwald wrote his articles on US and UK spying after receiving material from Edward Snowden, the former National Security Agency contractor who is now in Moscow after seeking sanctuary from the US following the leaks.
'Just rhetoric'
Steven Kovats QC, representing the home secretary, told the court the secret material taken from Mr Miranda could have ended up in the hands of al-Qaeda.
Mr Miranda's lawyers say the detention at Heathrow was illegal because it was carried out under the wrong law: Schedule 7 of the Terrorism Act 2000.
They argue that in reality he was detained on the say-so of the security services so they could seize journalistic material.
But Mr Kovats told the court: "In broad terms there is more to terrorism than letting off bombs."
He added that describing oneself as a "responsible journalist" did not mean one understood the significance of the material in question.
Judge Lord Justice Laws replied: "I don't really know what is meant by the term 'responsible journalist'.
"It doesn't make a journalist omniscient in security matters."
"It's just rhetoric really."
The hearing continues.