Sven-Goran Eriksson four-year hacking not fact, says judge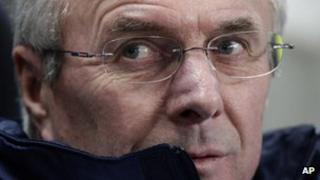 Evidence that Sven-Goran Eriksson's phone was hacked over four years by the News of the World should not be taken as fact, a judge has said.
It was alleged on Wednesday the ex-England manager and FA employee Faria Alam were monitored by investigator Glenn Mulcaire between 2002 and 2006.
The phone-hacking trial heard the paper then exposed their relationship.
But Mr Justice Saunders stressed it was not accepted that all of Mulcaire's notes about them were from hacking.
The jury had heard evidence that Mr Eriksson's name appeared in Mulcaire's notes in August 2002. The court was also told hacking happened from 2004 to 2006.
Mulcaire has already admitted phone hacking.
'Without consent'
However, addressing the jury at the start of Thursday's evidence, Mr Justice Saunders said: "It is not accepted that every time there is a Mulcaire entry... that this is to do with phone hacking.
"The important thing that I am saying is listen to what the advocates are saying, listen to what the witnesses are saying, do not rely on newspaper reports. It is your impressions that count."
Mr Justice Saunders also said a reference in the 2002 notes contained a phone number which was not in fact Mr Eriksson's. This was not mentioned during Wednesday's hearing.
The jury of eight women and four men were read witness statements from Ms Alam, a former personal assistant at the Football Association, who told police she was pursued by the press in 2004 over her affair with Mr Eriksson.
She confirmed to detectives that her phone number, voicemail pin and address appeared in Mulcaire's notes.
In a statement, she said: "I do not know Glenn Mulcaire and have never met him. I have never given him my number.
"Any intrusion has been done without my consent or permission."
'Regularly followed'
Later, the jury heard the then Fire Brigades Union leader, Andy Gilchrist, also had his voicemail targeted over an alleged affair.
In 2003, around the time of a pay dispute involving the union, The Sun newspaper revealed Mr Gilchrist had been involved in a relationship with Tracey Holland.
In a statement to the court, Mr Gilchrist said he had been "regularly followed and harassed... by journalists, including the News of the World" because of his union role.
He said he had tried to keep union meetings secret, but journalists seemed to know where he was going and he felt they had access to confidential information about him.
His colleagues joked that security services MI5 or MI6 might be listening to his messages, the court heard.
The jury was told that Rebekah Brooks - who edited the News of the World (NoW) between 2000 and 2003 - became editor of the Sun on 13 Jan 2003.
Mulcaire, who worked for the NoW, had notes containing Mr Gilchrist's address, phone numbers and other details, the court heard.
It is the prosecution's case that Mulcaire hacked the phones of Mr Eriksson, Ms Alam and Mr Gilchrist, and that Mrs Brooks and former NoW editor Andy Coulson conspired in phone hacking - a charge they both deny.
In addition to this, Mrs Brooks, 45, of Churchill, Oxfordshire, and her PA Cheryl Carter, 49, of Chelmsford, Essex, both deny perverting the course of justice.
Mrs Brooks denies a second similar charge, along with her husband Charlie Brooks and News International's former head of security, Mark Hanna. She also denies a charge of conspiracy to commit misconduct.
Mr Coulson, 45, of Charing, Kent, who also denies conspiracy to commit misconduct, left the newspaper industry in 2007 and went on to become Prime Minister David Cameron's communications director.
Hundreds of recordings
The court was then told of an alleged conspiracy to hack the voicemails of former Home Secretary David Blunkett, whose three-year relationship with a married woman, Kimberley Quinn, was exposed by the News of the World in 2004.
The jury was shown Mulcaire's notes relating to the then cabinet minister, which included his phone numbers, address and details of his sons.
The notes also referred to "multiple recordings, over 330" made in July and August 2004, which included voice messages left by Mr Blunkett on Ms Quinn's phone. Mr Blunkett's mobile phone itself was not hacked, the jury heard.
The tapes were recovered from the safe of Tom Crone - a lawyer for News International, the parent company of The Sun and NoW.
The voicemails and transcripts found by police detailed Mr Blunkett's feelings about the end of the relationship, and were "deeply personal and intrusive" - Det Con Tim Hargreaves, who investigated the case, told the court.