Army reserve plan could be revised, says Hammond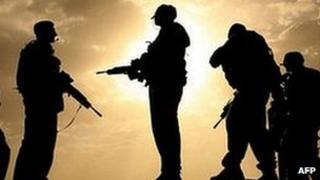 The Army's programme to recruit more than 10,000 additional reservists by 2018 may have to be revised if it fails to deliver the numbers required, the defence secretary has said.
Philip Hammond told the Commons Defence Committee the target was "challenging" but he was confident it would be met.
The Army Reserve is being expanded to 30,000 to offset cuts of 20,000 troops in the regular Army.
A leaked Ministry of Defence memo last month warned recruitment was lagging.
The Daily Telegraph reported that fewer than half the required numbers of reservists had so far been recruited in what was described as a "hostile recruiting environment".
'Scrutinising weekly reports'
Under government plans the regular Army is being cut from 102,000 to 82,000 by 2020, while the Army Reserve - formerly known as the Territorial Army - is being expanded from 19,000 to 30,000.
Mr Hammond said there was "a huge focus on the issue".
"We will be publishing quarterly data but I can assure you we are scrutinising weekly reports of recruiting numbers," he told MPs.
Asked what would happen if there was a failure to produce the necessary recruits, Mr Hammond said: "If there is a persistent and significant discrepancy, clearly the plan will have to be revised. The plan will not be delivering."
Mr Hammond said changes to the programme could be introduced, including improved incentives for reservists and their employers.
"I am very confident that we will be able to deliver this agenda," he said.
"It will be challenging but nobody ever suggested that the things we are trying to do would not be challenging. We know what we have to do. We will deliver."
The Chief of the General Staff, Gen Sir Peter Wall, said that the IT system on which the programme was based had not "got off to the best start" but said the problems were being remedied.
He said they were only "three months into a five-year campaign" and so the pessimism from the committee's questioners was "a little bit difficult to relate to".