Firefighters to strike again on 13 November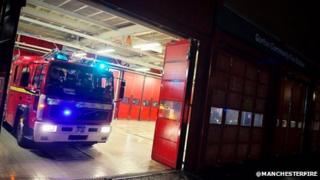 Firefighters in England and Wales are to strike on 13 November, the Fire Brigades Union (FBU) has announced.
The four-hour walkout from 10:00 GMT by union members will be the fourth in recent weeks.
They are striking over a row with the government, who want to increase firefighters' retirement age to 60.
The union also announced that it will ballot its members for other forms of industrial action in an escalation of the dispute.
FBU members in England and Wales went on a two-hour strike on Monday, having previously taken industrial action on Friday and last month.
Firefighters in Scotland have taken no action while talks continue.
The dispute is over pension age changes which will see the retirement age for firefighters increased from 55 to 60.
'Little goodwill left'
The union fears firefighters will be made redundant if they fail fitness tests and are unable to find other work in the fire service.
Before Monday's strike, the FBU claimed the government had worsened its offer on pensions and retirement age.
Following the announcement of the latest strike, FBU General Secretary Matt Wrack said although the union hopes the government will return to negotiations, its members "have told us that they are prepared for a long, hard campaign if necessary".
He added: "As a result, we are now balloting for further forms of industrial action.
"The fire and rescue service is totally reliant on the goodwill of firefighters on the front line. Many are now performing additional duties and additional hours as a result of central government funding cuts.
"There is precious little goodwill left in view of these attacks and I am confident that will be reflected in this further vote.
"I urge the government to come back and talk about all the issues in dispute."