Andy Coulson 'never involved in hacking'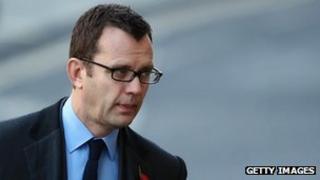 Former News of the World editor Andy Coulson "was never party to any agreement to hack phones - whatever others might have been doing on his watch", an Old Bailey jury has heard.
His barrister Timothy Langdale QC was speaking after the conclusion of the prosecution opening statement.
He said Mr Coulson wished he had made some "different decisions" but "he did not commit these offences".
Mr Coulson, 45, of Charing, Kent, denies conspiracy to hack phones.
Mr Coulson, who also denies conspiracy to commit misconduct, left the newspaper industry in 2007 and went on to become Prime Minister David Cameron's communications director.
He is among eight defendants, who all deny the range of charges against them.
'Close to chest'
Making opening remarks, which he said was a "relatively uncommon" for a defence barrister, Mr Langdale said his client would be taking to the witness box later in the trial to give evidence about "the fast-moving world of Sunday tabloid journalism - a fiercely competitive world".
He said Mr Coulson's job was "not to know about every story during the week", adding there were "many thousands of pieces of information, many of which never got in the paper at all".
Reporters kept sources close to their chest, often protecting them from rivals on their own newspaper, Mr Langdale added.
And he told the court that private investigator Glenn Mulcaire, who has a conviction for phone hacking for the News of the World and has admitted other phone-hacking charges, had targeted the phone of Mr Coulson.
Mr Langdale said the case had "an unusual history" and "the trial itself will be unusually long".
He also warned about "unfair reporting" of events, saying the Guardian newspaper had been wrong to say in July 2011 that News of the World journalists had deleted messages on the phone of murdered Surrey schoolgirl Milly Dowler, who went missing in 2002.
There was no evidence to suggest Mr Mulcaire or any other person acting for the paper had deleted any message "deliberately or accidentally", he said.
There was nothing the paper had done which gave rise to any "false hope" that Milly Dowler was still alive, he added.
Later the court heard from the first witness, Det Sgt Gregory Smith, who investigated the phone hacking allegations.
Jurors heard about a message from a recruitment firm left on the teenager's phone, a detail which became the subject of a News of the World story about her.
'Media firestorm'
Of the prosecution handling of the evidence, Mr Langdale said: "Their interpretation is wrong, their conclusions are wrong - there will be a time to reflect all that."
Prosecutor Andrew Edis QC earlier told the court that notebooks went missing amid the "media firestorm" caused by the revelation that News of the World journalists had hacked Milly Dowler's phone.
Those claims led to the closure of the paper in July 2011.
Mr Edis said News International executive Rebekah Brooks and others hid evidence as police investigated the newspaper.
He said security staff picked up a laptop and other material from Mrs Brooks's home in Oxfordshire, which was later found hidden in a bin bag near bins at her Chelsea Harbour flat.
The court heard that, after it was hidden, a member of the security team sent a text to his chief that said: "Broadsword calling Danny Boy. Pizza delivered and the chicken is in the pot."
Mrs Brooks, who was editor of the News of the World between 2000 and 2003, and her PA Cheryl Carter deny perverting the course of justice.
Mrs Brooks, 45, of Churchill, Oxfordshire, denies a second similar charge, along with her husband Charlie Brooks and Mr Hanna.
She also denies conspiracy to intercept communications and conspiracy to commit misconduct.
The trial continues.