Kenneth Clarke: Face veils 'undermine justice'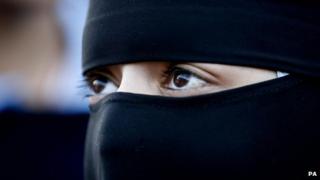 Women should not be allowed to wear a veil while giving evidence in court, cabinet minister and former justice secretary Kenneth Clarke has said.
He insisted his comments "had no trace of Islamophobia" but said it was important for the court to be able to see a witness's body language.
"It's almost impossible to have a proper trial if one of the persons [is] in a kind of bag," Mr Clarke said.
A judge ruled in September a woman must remove her veil to give evidence.
Home Secretary Theresa May has previously said women should be free to wear what they wanted, including veils, but there may be some circumstances when it would be necessary to ask for them to be removed.
'Completely invisible'
Mr Clarke, a barrister by profession, said outside a courtroom people should be able to wear "what the devil they like", but in court, body language was crucial for judges and jurors and a "clear rule" was needed on veil use.
The minister without portfolio suggested special arrangements could be made in court to screen women from the general public, allowing them to remove veils in relative privacy.
"I don't see how on earth a judge and a jury can really appraise evidence when you're facing someone who is cloaked and is completely invisible to you," he told BBC Radio 4's The World This Weekend. "I actually think it undermines a trial."
He added: "It's a most peculiar costume for people to adopt in the 21st century."
Labour's Jack Straw, a former home secretary, has also recently called for new laws requiring women to remove veils while on trial or giving evidence.
In September, Judge Peter Murphy ruled in a case at London's Blackfriars Crown Court that a Muslim woman could stand trial wearing a full-face veil but must remove it to give evidence.
The 22-year-old woman had refused to remove her niqab veil and reveal her face in front of any man.
There has been recent debate about the acceptability of veils in other aspects of public life.
The Department of Health recently announced a review into whether NHS staff in England should be allowed to wear full face veils.
Health Secretary Jeremy Hunt has said it was important for patients to "be able to see the face of the doctor or nurse" treating them.
Jeremy Browne, a Lib Dem Home Office minister, has also urged the government to consider banning Muslim girls from wearing veils in public places such as schools and called for a national debate on the issue.