Newspaper review: Brooks and Coulson in news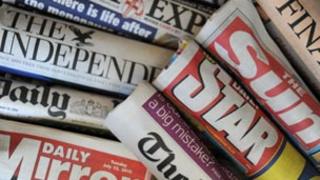 Rebekah Brooks and Andy Coulson are pictured on several front pages, after the phone-hacking trial at the Old Bailey was told they had an affair which lasted for six years.
The Daily Telegraph says that, sitting side by side in the dock, "neither showed any emotion" as "intimate details" of their relationship were "laid bare".
In the Guardian, a cartoon by Steve Bell suggests how such a development might have been covered in the now defunct News of the World, the paper edited by both Mrs Brooks and Mr Coulson.
His mocked-up front page features the headline: "Ex-eds secret six-year sex romp."
The main headline in the Independent describes it as "the affair they didn't expose".
Mrs Brooks, Mr Coulson and six other defendants deny all the charges against them.
'Wishy-washy'
The Daily Mirror is less than impressed with the Energy Secretary, Ed Davey, who told MPs on Thursday how the government intended to get tough with the big energy companies.
The paper says he could have "read the riot act to the big six" - but instead offered a few "platitudes" about increasing competition.
The Daily Star accuses him of being "wishy-washy".
The release from prison of the mother of Baby P is the main news in the Sun.
It reports that Tracey Connelly will be given a "fresh name and different hairdo" - but not a complete new identity.
The paper says she was freed on Tuesday - the day it was confirmed that the former head of children's services at Haringey Council, Sharon Shoesmith, would receive compensation for unfair dismissal.
NHS pay-offs
The Times reveals details of some of the pay-offs given to senior managers when 161 NHS bodies were abolished as part of a shake-up of the health service earlier this year.
It says a married couple received redundancy payments of nearly £1m between them - before they were both re-hired by the health service a few months later.
The paper says its analysis suggests more than 50 staff were given payments in excess of £100,000 each, and more than a dozen of those recipients have since found work in the public sector.
"Did she or didn't she?" asks the Daily Mail, which says a shop manager from East Sussex "risked the wrath of courtiers" when she appeared to touch the Queen's back.
According to the paper, Kerry Bickerstaff seemed to "graze the fabric" of the Queen's coat during a visit to Newhaven.
Buckingham Palace insisted it was merely a near miss - and said the Queen would have taken no offence.