Royal Marines 'had shooting cover-up plan'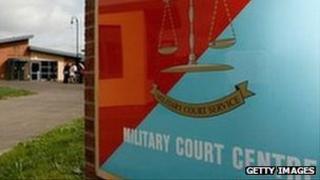 A Royal Marine who filmed his comrade shooting an injured Afghan insurgent has told a court martial there was a plan to "cover up" what happened.
The marine, called Marine B in court, said he and others lied in interviews about the incident in Helmand province.
He said the idea was to mask how "Marine A" had shot the man in the chest with a 9mm pistol at close range.
Three marines at the military court in Bulford, Wiltshire, deny murdering the unknown Afghan in September 2011.
Marine B, who gave evidence from behind a screen to protect his identity, told the court: "We all protected [Marine A] by telling lies."
David Perry QC, prosecuting, asked: "Was there a plan to cover it up?"
Marine B replied: "We were protecting him, yes. In my opinion he had shot an alive, injured insurgent."
Marine A has told the court he believed the insurgent was dead when he fired the shot.
Mr Perry asked: "We saw on the video you suggesting a cover story to the patrol. What was the cover story to be?"
Marine B said: "It was just protecting Marine A. It meant to say it was a warning shot."
Helmet camera
Marine B said there had been no plot to mistreat or kill the captured man, who had been seriously injured in an attack by an Apache helicopter.
Marine B told the court: "I did not want to give him first aid. They are the enemy. It is a strange feeling to do that but I did it nonetheless. I believed he would die but my opinion was either way to give first aid."
The marine admitted that the medical dressing he used on the insurgent could have been applied earlier than it was.
Mr Perry asked: "Is it possible that he could have survived, we don't know, but it is possible?" Marine B replied: "Yes."
The court was shown video footage taken from a camera mounted on the helmet of Marine B, which he said was contrary to an order but he had not been reprimanded about it.
Marine B said the footage showed him applying a dressing to the captured Afghan and stopping at the order of Marine A, a sergeant.
Marine A and the third accused, Marine C, can be heard stating "he's passed" and "he's dead" as Marine B administers first aid.
Mr Perry asked Marine B why he did not inform his comrades that the man was in fact alive, and then ceased treatment immediately after the order from Marine A.
Marine B replied: "I had been given a direct order in an extremely complex environment. In hindsight, seeing what happens, I wish I had the moral courage to say that, to speak out of turn. However, I didn't. It was an error of judgment on my part."
He added: "Because of the state of the insurgent, I would say there's quite a lot of doubt as to how he died."
Laptop footage
Footage from Marine B's camera shows the Afghan dying as Marine A says: "There you are. Shuffle off this mortal coil. It's nothing you wouldn't do to us."
Marine A tells his comrades: "Obviously this doesn't go anywhere fellas. I just broke the Geneva Convention."
Pathologist Dr Nicholas Hunt has given evidence to the hearing, in which he said the insurgent had been alive when he was shot.
The marines were arrested by Royal Military Police last October after civilian police found suspicious footage on a serviceman's laptop in the UK.
The three are accused of murdering the Afghan national contrary to Section 42 of the Armed Forces Act 2006. The trial continues.