Accused marine believed Afghan 'already dead'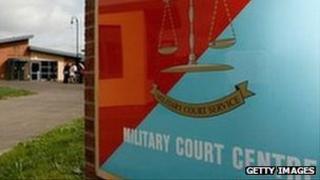 A Royal Marine accused of shooting dead an injured insurgent in Afghanistan has told a court martial he believed the Afghan was dead at the time.
The serviceman, called Marine A, blamed "a stupid lack of self-control and lapse in judgement" for the shooting.
Two other marines are accused of being party to the shooting in September 2011 in southern Helmand province.
A pathologist told the court martial on Tuesday the insurgent had been alive when he was shot.
Footage taken in Helmand on 15 September 2011, on the helmet-mounted camera of a serviceman referred to as Marine B, shows Marine A - a sergeant - shooting the injured man, who was covered in blood, at close range with a 9mm pistol.
'Lapse in judgement'
Marine A told the court martial board in Bulford, Wiltshire: "At that point I saw no signs of life from him so I believed he had passed."
Asked by his defence barrister why he fired at the man, Marine A said it had been a "stupid, lack of self-control, momentary lapse in my judgement".
"I thought about it over the last year as we get towards these proceedings but I cannot give any other reason than to say that it was poor judgement and lack of self-control," he said.
"I thought he was dead."
Marine A was filmed walking forward, bending down and shooting the man in the centre of his chest.
The footage played in court then shows him saying: "There you are. Shuffle off this mortal coil. It's nothing you wouldn't do to us."
Prosecutors allege Marine A then turned to comrades and said: "Obviously this doesn't go anywhere fellas. I just broke the Geneva Convention."
Asked about the "shuffle off this mortal coil" comment, Marine A said: "Foolish bravado in reaction to what I have done, something I am not proud of."
'Stress and tension'
Defence barrister Anthony Berry QC asked: "When you shot the man thinking he was dead you thought you were breaking the Geneva Convention by shooting a man who was already dead?"
Marine A replied: "Yes."
He added: "I was still on the belief that he was dead when I discharged the weapon but I could have made a mistake because he was so animated when I discharged the weapon."
Marine A said there were daily patrols into the local area with a rest day every two to three weeks.
He agreed, when questioned by Mr Berry, that there had been an increase in stress and tension among the troops.
When Marine A was first interviewed following his arrest in September he said no-one had shot the insurgent and he had administered first aid.
At Wednesday's hearing he admitted that he had lied.
And when the prosecutor, David Perry QC, asked Marine A whether he now agreed that the insurgent was alive when he shot him, he replied: "It is possible, yes.
"As I said, there is a strong possibility he was alive," he added.
On Tuesday, pathologist Dr Nicholas Hunt told the court martial that the footage - which had been seized by the Royal Military Police - appeared to show that the unnamed insurgent convulsed after he was shot. This demonstrated he was still alive at the time, Dr Hunt told the court.
Three pages of a journal belonging to Marine C, also seized by the Royal Military Police, were read to the court martial on Tuesday.
The serviceman wrote he was "ready and waiting to pop him with a 9mm", but felt "mugged off" when another marine shot the insurgent.
"Still the end result was a good one," he wrote.