Insurgent was alive when shot by marine, court martial hears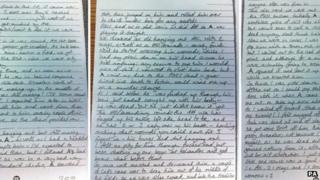 A badly injured Afghan insurgent was alive when he was allegedly shot at close range by a Royal Marine, a pathologist has told a court martial.
Three marines, known only as A, B and C, are accused of murdering the man in September 2011 in Helmand Province.
Dr Nicholas Hunt said the unknown insurgent showed clear signs of life when a serviceman allegedly shot him in the chest with a 9mm pistol.
The marines deny the charges at the Military Court Centre in Wiltshire.
Marine A is accused of the shooting, while Marines B and C are said to have been "party".
'Fight to breathe'
The court martial heard the footage was taken in Helmand on 15 September 2011 by Marine B on his helmet-mounted camera.
It allegedly shows Marine A - a sergeant - shooting the injured man, who was covered in blood.
The marines were part of a patrol that was sent to examine the aftermath of an Apache helicopter attack upon the insurgent, who was spotted in an open field near their patrol base.
Dr Hunt said he compiled a report based on watching the film, which was seized by the Royal Military Police.
Dr Hunt said that after the man was shot, his chest could be seen to move and he appeared to be convulsing.
"He was still alive at the point he was shot," he said.
David Perry QC, prosecuting, asked Dr Hunt whether the gunshot could have caused death on its own.
"It depends on what area it strikes," Dr Hunt said. "A shot in that area can prove fatal in its own right.
"It would have caused a catastrophic drop in blood pressure and an increasing fight to breathe."
'Ready and waiting'
The court martial board of seven watched the video footage with Dr Hunt talking them through the injured man expressing signs of life.
The first clip shows the insurgent being dragged from the middle of the field with his eyes opening and closing and he appears to move his arm.
"These are deliberate actions - they are signs that he is not dead," Dr Hunt said.
Three pages of a journal belonging to Marine C, which was seized by the Royal Military Police, were read to the court martial.
The serviceman wrote he was "ready and waiting to pop him with a 9mm", but felt "mugged off" when another marine allegedly shot the insurgent.
"Still the end result was a good one," he wrote.
Marine C claimed he had used the journal as a "mechanism for coping for a stressful environment" and that the diary was "the ramblings of a very scared and angry person".
He said: "I didn't shoot him; I wasn't there when he was shot; I didn't ask or suggest or agree that he be shot.
"Whether I wanted him to be or if I wanted him to die in my own head is irrelevant.
"What I wrote in the journal is like a vent at the end of the day - just like whatever comes out of your head."
The court martial was adjourned until Wednesday.