'Ex-BBC driver' David Smith found dead ahead of sex abuse trial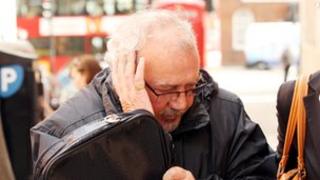 A man described by a court as a former BBC driver has been found dead ahead of his trial for historical sex offences.
David Smith, 67, from Lewisham, south-east London, was charged as part of Operation Yewtree with allegedly abusing a 12-year-old boy in 1984.
A warrant was issued for his arrest on Monday after he failed to attend Southwark Crown Court. His cause of death is not yet known.
The BBC said it had found no record of him working for the corporation.
Scotland Yard said a post-mortem examination was being carried out on Tuesday, but there are not thought to be any suspicious circumstances surrounding his death.
Savile documentary
Smith was the first person to be charged under the investigation into historical cases of abuse, which was originally set up in the wake of the Jimmy Savile scandal.
He faced two counts of indecent assault, two of indecency and one of a serious sexual offence.
It was alleged Smith met his victim at a swimming pool and invited him back to his flat, where he sexually abused him.
He also took the boy on a visit to the BBC studios at White City, in west London. During the journey, the boy claimed, he was indecently assaulted.
It is understood there is no evidence to suggest a link between Smith and Savile, though the former was contracted to work as a driver for the BBC.
A BBC spokesman said "on searches carried out to date" the corporation had "not found any record of David Smith being employed by or working for the BBC".
"We have been assisting the police in relation to David Smith and will continue to do so," he added.
The alleged victim's partner contacted police after she saw his response to the ITV documentary Exposure: The Other Side of Jimmy Savile, which was broadcast on 3 October 2012.
A previous attempt to track down Smith in 2002 had failed when police could not find him - even though he was in prison at the time.
In a statement, the Metropolitan Police said a crime report was taken at Tooting police station, south London, when the victim reported the matter in 2002.
It said a specialist team was set up to look into the complaint, but the victim did not remain in contact.
"As a formal statement had not been provided by the victim at that time, the investigation was subsequently closed," it said.
Historical abuse
Smith was a prolific sex offender whose first conviction was in 1966. He had 22 convictions for sexual offences against young boys.
His barrister became concerned on Monday when his client failed to appear at court.
Police found him at his home address at about 14:20 GMT and he was pronounced dead at the scene.
Yewtree is an inquiry into allegations of historical sexual abuse linked to the entertainment industry.
The operation has three strands. One concerns Savile's crimes exclusively, while a second strand relates to allegations against Savile and others.
The third strand concentrates on accusations that emerged as a result of the publicity surrounding Savile, but which are unconnected to him.
Smith was investigated under the third strand.