Newspaper review: Energy taxes make headlines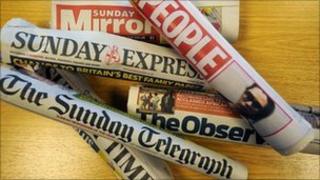 Many of the papers reflect on David Cameron's decision to announce a review of green energy taxes.
Writing in the Mail on Sunday, Npower boss Paul Massara welcomes the decision to roll back levies - which he describes as "the real enemy" - and to hold a competition inquiry.
But the Sunday Times argues that while it's Ed Miliband who should be on the run - with his promise to freeze bills, in its view, unworkable - Mr Cameron is allowing his opponent to set the agenda.
"There was no need," it says, "to get involved in a populist bidding war over energy prices."
'Over-estimated bills'
The lead for the Independent on Sunday, meanwhile, is its special report into what it calls "the other energy scandal: tax avoidance".
According to the paper, a legal loophole has allowed more than 30 UK companies - including some energy firms - to cut their taxable profits by, in its words, "racking up interest on debt from their owners".
The Observer's main story is the revelation - by a whistleblower - that British Gas is making as much as £20m a year from over-estimated bills.
According to the paper, the firm has sped up a process allowing it to retain money owed to former customers who built up credit before switching suppliers.
"Power cuts and travel chaos," is the lead headline for the Sunday Express, which says a £1bn bill is feared in the wake of "the devastating storm set to batter Britain".
For the Daily Star Sunday, there's "no escape" - "Good luck everyone," it says.
The Sun on Sunday, meanwhile, is among those to highlight the fact that St Jude - whom the storm has been named after - is the patron saint of lost causes.
Full attention
The Sunday Telegraph carries a warning from what it calls "one of the country's most distinguished" military commanders that Britain's armed forces cannot do their everyday duties.
Field Marshall Lord Bramall - a former chief of both the general and defence staffs - tells the paper that cutting regular forces before building up the reserves was "misguided".
The paper believes he is "one old soldier who deserves our full attention" - and warns that "changes that fly in the face of common sense have a way of costing this country dear in the long run".
Finally, the Sun on Sunday has the story of a 64-year-old council tenant in Hull who rang the number he had been given to arrange a boiler inspection - and was stunned to be greeted with the words: "Hi there big boy, what's your name and what can I do for you?"
According to the city council, the area code had accidentally been omitted on the letter - so when dialled from a mobile, the number put him through to a sex chatline.