New christening photo shows Prince George with parents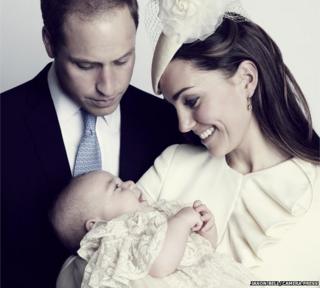 A new official photograph from the christening of Prince George has been issued, showing him with his parents.
The Duchess of Cambridge can be seen smiling as she cradles her son and looks into his eyes, with Prince William beside her, gazing down at him.
It is the fifth picture shot in the Morning Room at Clarence House after Wednesday's ceremony at the Chapel Royal, St James's Palace, to be issued.
They were taken by Jason Bell, known previously for his celebrity subjects.
The prince, who was born on 22 July, was baptised by the Archbishop of Canterbury during the private christening attended by 22 guests.
In all the pictures, Prince George wears the replica of the intricate lace and satin christening gown made for Queen Victoria's eldest daughter, Victoria, the Princess Royal, in 1841, that he had on at the service.
The other four photographs were released on Thursday evening to mark the christening of the third in line to the throne.
One also shows Prince George and his parents. He can be seen with his arms outstretched, sitting with the Duke and Duchess of Cambridge on a sofa.
The photograph said by the BBC's royal correspondent Nicholas Witchell to have the most historic significance shows the Queen with three future kings - her son, the Prince of Wales, grandson, the Duke of Cambridge, and great-grandson, Prince George.
Another picture show Prince George and his parents alongside the Queen, Prince Philip, Prince Charles, the Duchess of Cornwall and Prince Harry.
The fourth picture, issued the day after the christening, shows the royal family with the Duchess of Cambridge's mother, father and siblings.