Probation service strike date announced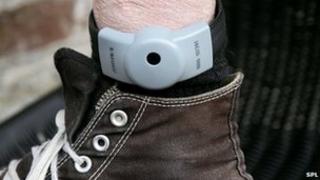 Probation officers in England and Wales are to go on strike for 24 hours over government plans to privatise the service, their union has said.
They plan to walk out on 5 November - one day after an expected postal workers' strike.
Their union said negotiations with ministers were ongoing but that it wanted to highlight the dangers of privatisation.
The Ministry of Justice (MoJ) said it had contingency plans in place.
It was only the fourth time in Napo's history that it had announced industrial action, the trade union said.
Under the MoJ's proposals, private companies and charities would take over much of the probation service.
They are currently bidding for £450m worth of contracts to supervise low and medium-risk offenders.
Impact on safety
Napo say 80% of its members have voted to go on strike, on a 46% turnout. A spokeswoman said 7,500 workers would be affected.
"Our members don't take the decision to strike lightly, said general secretary Ian Lawrence.
"But they feel so strongly about the privatisation of the Probation Service and the impact this will have on community safety, that they feel they have no choice.
"The public need to be aware of how the secretary of state's plans will impact on their safety and their communities."
It comes as the Fire Brigades Union announced two further strike dates in their dispute over pensions.
The postal, fire and probation service actions come in a week when the People's Assembly - a coalition of trade unions and political activists - plan a series of demonstrations across the country.
'Status quo'
The government says it wants the Probation Service to operate under a system of payment-by-results.
The MoJ has said that more than 700 organisations, including hundreds of British firms, have expressed an interest in bidding for the contracts.
Justice minister Jeremy Wright described the planned strike as "in favour of the status quo" and of "high reoffending rates".
He added: "More than 600,000 offences were committed last year by those who had broken the law before, despite spending £4bn a year on prisons and probation.
"The public deserves better and we are committed to introducing our important reforms, which were widely consulted on.
"We have well-established contingency arrangements to deal with any potential action. We will continue to support staff and engage with unions as our reforms move forwards."