Old Bailey evacuated over suspect package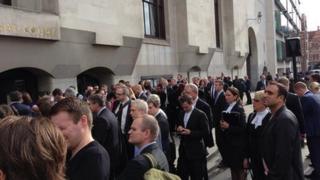 The Old Bailey was evacuated after a suspect package was found in a courtroom during the sentencing of a man behind a mosque bombing campaign.
The package was found in court 11, where Ukrainian student Pavlo Lapshyn was being sentenced for murder and plotting to cause explosions.
A man has been detained by the City of London Police.
The court was closed for more than half an hour while police investigated the incident.
Roads around the Old Bailey were also closed, but have since reopened.