Askham Grange and East Sutton Park women's prisons to close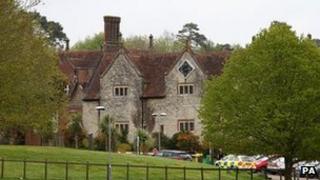 Two women's prisons are to close, the Ministry of Justice (MoJ) has announced.
Askham Grange in Yorkshire and East Sutton Park in Kent are open prisons.
The MoJ said it would ensure there were enough female prison places by refurbishing Eastwood Park and Foston Hall prisons and modifying buildings at Drake Hall.
It comes as the MoJ announced plans for female prisoners to serve their sentences nearer to home.
The MoJ says it wants female inmates to maintain family relationships, and to improve their job prospects before leaving jail.
The reforms, announced by Lord McNally, the minister for female offenders, will makes women's jails so-called "resettlement prisons" intended to locate women close to home and help re-integrate them into society.
Female prisoners 'ignored'
As well as Askham Grange and East Sutton Park, the mother and baby unit at Holloway Prison will also be closed "due to under-occupancy", the MoJ said.
The MoJ said "any demand will be met by the nearby modern, purpose-built unit at HMP Bronzefield".
As of 18 October there were 101 prisoners at Askham Grange and 92 at East Sutton Park.
The MoJ said the planned changes would result in a "small average reduction in distance" that women prisoners are from home.
But BBC correspondent Danny Shaw said because of the latest closures, the fact there were still no jails for women in Wales and the conversion of Downview Prison to a men's prison, the resulting lack of spare room in the system made it hard to see the changes making any real difference.
The planned closures will bring the number of prisons that have been closed or are planned to close to 21 since the coalition came to power in 2010.
The female prison population on 30 June was 3,853, compared to 4,267 on 30 June 2010.
The total prison population and detainees in immigration removal centres in England and Wales increased by 248 in the past week to 85,235.
It means the number of spare places in jails in England and Wales has fallen to 811 from 841 last week.
The announcements about women's prisons come after MPs accused ministers of ignoring female prisoners.
The Justice Select Committee said in July that the government's probation reforms had been designed with "male offenders in mind" and treated women as "an afterthought".
Lord McNally said that he wanted to end female reoffending for good.
"When a female offender walks out of the prison gates, I want to make sure she never returns," he said.
"Keeping female prisoners as close as possible to their homes, and importantly their children, is vital if we are to help them break the pernicious cycle of re-offending.
"And providing at least a year of support in the community - alongside the means to find employment on release - will give them the best possible chance to live productive, law-abiding lives."
'Almost meaningless'
Lord McNally also announced plans to pilot an "open unit" next year at HMP Styal, a jail in Cheshire for women and young offenders.
The Ministry of Justice said the prison was chosen because of the good work it already does "helping women into jobs".
One inmate, Stella, said serving her sentence at the jail allowed her to gain qualifications and be nearer to her family.
"It's really important to keep the bond with the child. That's the hardest thing about being in jail - being separated from your child."
The MoJ said it was considering opening a "commercial-run business" at Styal to provide training and employment opportunities for the women.
It said similar ventures in Cardiff and Surrey's High Down men's prisons, which have restaurants run by prisoners and open to the public, had been a success.
But Juliet Lyon, director of the Prison Reform Trust, said: "Trying to improve women's imprisonment would be a waste when the best way to reduce women's offending is to invest in treatment for addictions, mental healthcare, training for work and safe housing away from domestic violence and abuse."
The government says it acknowledges many women who go on to commit crime are themselves victims of domestic and sexual violence.
It points to statistics suggesting 53% reported being abused as children, while 49% suffer from anxiety and depression.
The MoJ says it wants to create new "personality disorder treatment services" for female prisoners by working with the NHS.
Labour called on the government to avoid custodial sentences for "low-level offences".
"The public want confidence that the criminal justice system is effectively punishing and reforming all those found guilty of committing crimes," said shadow justice secretary Sadiq Khan.
"But this government must do much more to stop women offending in the first place."
He added: "With only a small number of scattered women's prisons, the concept of local resettlement is almost meaningless."