£100m-funded apprenticeship training company facing administration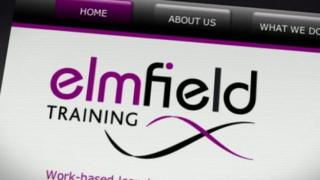 A private training company that received more than £100 million in public money to provide apprenticeship and vocational training is going into administration, the BBC understands.
Elmfield Training, based in Warrington, employs 600 people.
The company said it was trying to prevent job losses.
A BBC Newsnight investigation found employees were routinely asked to alter forms to claim funding for staff who never wanted to do an apprenticeship.
An investigation by the Skills Funding Agency, which pays for apprenticeship training, is still ongoing.
The majority of government funding received by Elmfield was paid to train apprentices for a single employer, Morrisons supermarket. That contract has earned Elmfield more than £60 million since 2010.
In July, an Ofsted inspection awarded Elmfield a grade 4 - the lowest grade possible - for the Morrisons training.
The Ofsted report said: "Success rates in the apprenticeship programmes experienced a considerable decline last year and a high proportion of learners within the Morrisons contract did not complete the full framework.
"Furthermore, the number of learners who completed their apprenticeship in the planned time fell to an unacceptably low level of 33%."
Newsnight subsequently spoke to two former assessors for Elmfield who had worked on the Morrisons contract.
They said they were not surprised at the low completion rate and they were routinely asked to change documents to claim government funding for Morrisons staff who did not want to do the English or maths training required to complete an apprenticeship.
Their claims were backed up by an internal email trail seen by Newsnight.
In one email, assessors were told: "For audit purposes we cannot use the words 'reluctant' or 'declined' for obvious reasons."
Another email said: "We need to address and cleanse the 1,700 learners that are currently on the system as funded Apprentices.
"These learners were originally on the system as unfunded due to not wanting to complete the Key Skills."
One of the former employees, speaking anonymously, said: "It's an abuse because the learners shouldn't have been signed up at all.
"If the funding isn't there to just deliver the main qualification then it wasn't suitable for them."
"Unacceptable" behaviour
Morrisons switched from Elmfield to another training provider in August.
On the same day that Newsnight presented its evidence to Elmfield's owner, Ged Syddall, he resigned as a company director.
"Mr Syddall will have no further role in or influence on the operations of the business, its governance or its relationships with clients," said the company.
The Board described the alleged behaviour revealed by Newsnight as "unacceptable".
Mr Syddall had previously come under fire for taking a dividend of nearly £3 million from Elmfield in the first year of the Morrisons contract.
In 2012 he took a dividend of nearly £1 million, at the same time as Elmfield posted a £5 million loss.
The Skills Funding Agency said it offered advice on different training providers.
"In cases where a provider enters administration, the Agency responds by identifying potential alternative providers.
"If necessary, we manage the transfer of learners and employers to new providers.
"We also redistribute funding as effectively and efficiently as possible to ensure that learners and public funds are protected."