Alan Davies pays Lord McAlpine damages over tweet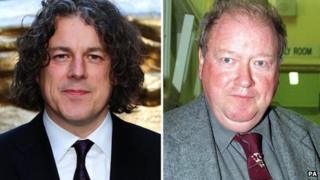 Comedian Alan Davies has paid damages after he retweeted a post linking a Tory peer's name to a TV report on a "senior political figure who is a paedophile", the High Court has heard.
Mr Davies apologised for the "great damage and distress" his post caused ex-Conservative Party deputy chairman Lord McAlpine, his lawyer said.
He accepted the "allegations" were "completely untrue", his lawyer added.
Lord McAlpine's solicitor said his client accepted Davies' apology.
But speaking after the hearing at the London court, Andrew Reid added: "The fact remains that both he [Lord McAlpine] and his family have been caused immeasurable distress which cannot be rectified.
"There still remain people influenced by this tweet and all the apologies in the world are not going to put the situation back to where it was."
Mr Davies said he "stood by" the public apology he issued at the time and had made a donation of £13,000 to the NSPCC in an attempt to make amends.
"I hoped those steps might avoid legal action but in March press reports appeared saying I was going to be sued for £200,000," he said in a statement issued after the hearing.
"I offered to pay £15,000 in damages plus a contribution to costs and agreed to make today's statement in court.
"From my own experience, I am able to warn others of the dangers of retweeting."
'Any clues?'
During the hearing, which neither Lord McAlpine nor Mr Davies attended, lawyers for both outlined details of the libel action to the judge, Mr Justice Tugendhat.
Sir Edward Garnier QC, for Lord McAlpine, said on 2 November last year the then "managing editor of the Bureau of Investigative Journalism" tweeted: "If all goes well we've got a Newsnight out tonight about a very senior political figure who is a paedophile."
Sir Edward said the prospect prompted further Twitter activity.
Newsnight broadcast the report about the sexual abuse of boys at the Bryn Estyn children's home in Wrexham, Clwyd, in the 1970s and 1980s, and accused an unnamed "leading Conservative politician from the Thatcher years of sexually abusing boys in care".
Sir Edward said that, prior to the broadcast, Mr Davies tweeted: "Any clues who this Tory paedophile is...?"
He said a few minutes later Mr Davies received a reply which contained links to three websites, including to an article about an inquiry into abuse at the Bryn Estyn home and to a Swedish website which "purported to report on a paedophile ring in the British establishment".
Sir Edward said the reply tweet then said "lord mcalpine, some would say". He added: "Most unfortunately, Mr Davies retweeted that tweet. At the time he had a substantial number of followers on Twitter - in excess of 400,000."
Mr Davies' lawyer Steven Hudson told the judge: "Mr Davies withdraws the allegation made on Twitter unreservedly and apologises sincerely to Lord McAlpine for the great damage and distress his tweeting has caused him."
He added: "Mr Davies hopes that as a result of this matter other Twitter users will be more aware of the potential damaging consequences of tweeting and be more careful in how they use that platform."
Ofcom ruling
On Tuesday, Lord McAlpine's libel action against Sally Bercow, wife of Commons Speaker John Bercow, was formally settled at the same court.
Mrs Bercow had already apologised and paid the peer undisclosed damages for a defamatory tweet linking Lord McAlpine to false claims of child sex abuse allegations.
Meanwhile, Ofcom has upheld complaints over episodes of Newsnight and This Morning that led to the peer being wrongly implicated.
Lord McAlpine was not named but the watchdog ruled that airing the claims while there was internet speculation about the alleged abuser's identity had led to Lord McAlpine being incorrectly identified.