Royal Marine 'never discussed death of Afghan prisoner'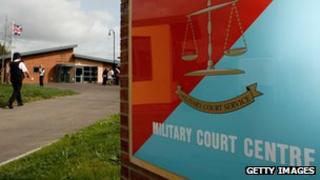 One of three Royal Marines accused of "executing" an injured Afghan prisoner kept the alleged incident a secret from his best friend, who was his base commander, a military court has heard.
The trio, known as Marines A, B and C, are charged with murdering the man while on duty in 2011.
Marine A is accused of shooting the man, while Marines B and C are said to have been "party to the killing".
Marine C's best friend, also a marine, said he had not spoken of the incident.
Speaking to the board at the Military Court Centre in Bulford, Wiltshire, Lt Lloyd Fallesen said he had not discussed the incident which took place in the Helmand Province in Afghanistan.
'Shuffle off'
The court heard on Wednesday that the the alleged incident occurred after a patrol base came under attack from small arms fire from two insurgents.
The Afghan prisoner had been seriously injured by gunfire fired from an Apache helicopter gunship sent to provide air support. The marines had come across the injured man in a field, the court heard.
Prosecutors say Marine A shot the Afghan prisoner with a 9mm pistol, swore at him, and said: "There you are. Shuffle off this mortal coil... It's nothing you wouldn't do to us."
Marine B's helmet-mounted camera inadvertently filmed the incident and the footage was shown to the court.
Lt Fallesen, who has been best friends with Marine C since school, said he was told by commanders that the Afghan national had been killed in action, prior to finding his body.
He told the court martial that he only saw Marine C twice during the 2011 tour and the incident was never discussed.
Prosecutor David Perry QC asked Lt Fallesen: "Did Marine C ever say to you 'I was amazed that Marine A just took out his gun and shot him, discharging this weapon?"'
He replied "no", adding: "Obviously I was aware once the investigation started of what had taken place and at that point I was being interviewed and questioned and I knew he was being interviewed and questioned".
"That's when we decided, but it was never ever said, that we shouldn't talk about it and discuss it and let it be and carried on."
'Bit of a joker'
Lt Fallesen said the subject was never aired. "We tried to put behind us what happened on the tour for understandable reasons," he explained.
Marcus Tregilgas-Davey, representing Marine C, questioned Lt Fallesen over the commando's character.
Lt Fallesen agreed that Marine C was a "first-class man" who had never given him any reason to doubt his integrity.
He also agreed with the barrister that Marine C was a "bit of a joker" and the sort of person who would engage in "squaddie humour", which could sometimes be a "bit close to the bone".
Lt Fallesen said he had never seen Marine C do or say anything that would lead him to believe he would be involved in harming or shooting a prisoner.