Stuart Hall charged with 15 rapes and indecent assault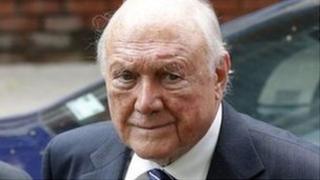 Ex-BBC broadcaster Stuart Hall has been charged with 15 rapes and one count of indecent assault involving two girls.
The charges relate to girls aged between 11 and 16 and allegedly happened between 1976 and 1981.
The abuse was allegedly committed in Manchester, Stockport, Wilmslow and Sale.
Hall, 83, is currently in jail serving 30 months for sexual offences. The former presenter is due at Preston Magistrates' Court on 8 November.
Nazir Afzal, of the Crown Prosecution Service, said: "Following a careful review, we have decided that there is sufficient evidence to prosecute Stuart Hall for 16 alleged sexual offences against two girls and that it is in the public interest to do so."