Operation Elveden: Ex-serviceman arrested in London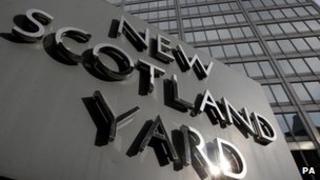 A former member of the armed forces has been arrested by police investigating allegations of illegal payments to public officials.
The man, 30, was arrested at his home in London at 06:00 BST on suspicion of misconduct in public office and conspiracy to cause misconduct in public office, Scotland Yard said.
He was interviewed at a London police station and later bailed until January.
The man was the 78th person to be arrested as part of Operation Elveden.
Forty-one of those arrested have been charged.
Operation Elveden is being run alongside two other inquiries, with Operation Weeting looking at alleged phone hacking and Operation Tuleta focused on computer hacking and other alleged privacy breaches.
The investigations were set up in the wake of the phone-hacking scandal that led to the closure of the Sunday tabloid newspaper the News of the World.
Those arrested include journalists, current and former police officers, prison officers and service personnel.
The Independent Police Complaints Commission has also made three arrests under inquiries linked to the probes.