Starr lawyers question length of police investigation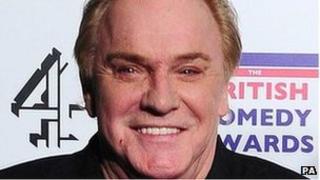 Lawyers representing the entertainer Freddie Starr have questioned the length of time a police investigation into alleged sexual offences is taking.
On Wednesday, Mr Starr was rebailed until 5 December. The entertainer was first arrested in November 2012.
His lawyer said he was "surprised" his client remained under investigation - but the Met Police confirmed they had not received any official complaint.
Police said the delay was the result of the "complex nature" of the inquiry.
Mr Starr was arrested as part of Operation Yewtree, the investigation set up to look at abuse claims against the late entertainer, Jimmy Savile.
The allegations against Mr Starr, 70, fall under the strand of the investigation known as Savile and others. Mr Starr has denied any wrongdoing throughout.
'Astonished'
In a statement, Mr Starr's lawyer Dean Dunham said: "Freddie was due to return to the police station today to answer bail and our belief was that this would have marked the end of this matter.
"However, we have been informed that the police have instead rebailed him to 5 December. We are astonished at the amount of time this investigation is taking in relation to Freddie and indeed surprised, on the basis of what has been put to him, that he even remains under investigation."
Mr Starr was re-arrested by Yewtree officers in April when further allegations against him - unconnected to Savile - emerged.
A Met Police spokesman said: "We are doing all we can to conclude matters as soon as possible and it should be appreciated the delay is the result of the complex nature of these inquiries."
Yewtree is an inquiry into allegations of historical sexual abuse linked to the entertainment industry.
It was launched after it emerged the late BBC Radio One DJ and television presenter Savile had subjected hundreds of young people and children to sexual abuse over more than five decades.
The operation has three strands. One concerns Savile's crimes exclusively, while a second strand relates to allegations against Savile and others.
The third strand concentrates on accusations which emerged as a result of the publicity surrounding Savile, but which are unconnected to him.
Other suspects
Earlier this week, former Radio One DJ Chris Denning, who was arrested under that third strand, was rebailed until January.
And an 80-year-old man from south London was rebailed until December.
Meanwhile, the fourth suspect still on police bail, former singer Gary Glitter, is awaiting a decision as to whether he will be charged after after a complete file of evidence was sent to the Crown Prosecution Service on 10 October.
Starr, who lives in Warwickshire, has previously denied claims that he groped a girl of 14 while in a BBC dressing room with Savile.